We're delighted to announce the winner of the Wonder Garden Raffle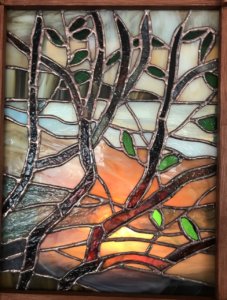 Congratulations to Larry Paluck, the proud owner of Jo Newhouse's gorgeous stained glass window created for the Hoffman Center to benefit our Wonder Garden.
Thank you, Jo, for your enormous generosity. And thanks to everyone who bought tickets. The Wonder Garden will be all the more beautiful for your support.
Manzanita Day was a surprising delight in view of the circumstances. Forty plant lovers attended Neil Bell's online presentation, Manzanita: The Shrub Worthy of A Town. The gathering was quite lively! We were impressed.
Stay tuned for more horticultural how-to's in the near future. In the meantime, if you're in need of a life-affirming experience and are comfortable being out and about, take a wander through the Wonder Garden. The plant life is irrepressible.