Open Studio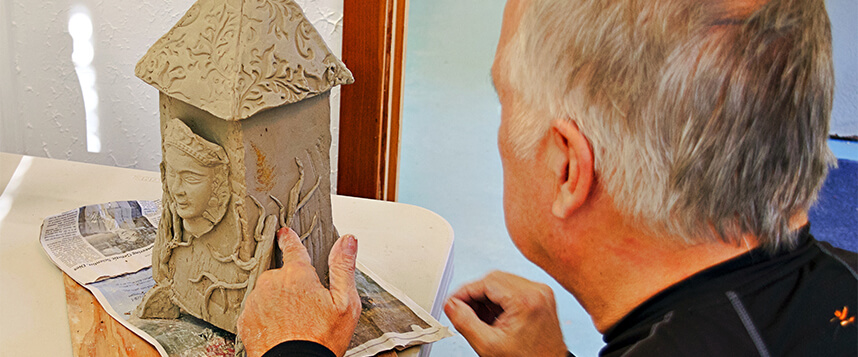 DUE TO COVID-19 – OPEN CLAY STUDIO IS TEMPORARILY CLOSED UNTIL FURTHER NOTICE.
The Hoffman Center Clay Studio welcomes anyone 18 years or older, with all levels of experience. We are open three days per week, including one evening. Volunteer studio hosts are available to orient newcomers to the studio equipment and materials, answer questions, and offer tips. We offer mid-range clays exclusively—firing to cone 04 for bisque ware and to cone 6 for glazes. Our affordable hourly fees include the use of all tools, firing, and glaze materials.
With ten hand-building areas, five throwing wheels, slab roller, extruder, a wide range of hand-building tools and materials, there are a multitude of options for exploring clay. In addition, our surface treatment materials include oxides, pigments, under-glazes, dipping and hand-brushed glazes, providing many options for learning and experimenting.
The Clay Studio is open on Tuesdays and Saturdays from 10 a.m. to 4 p.m., and Thursdays from 10 a.m. to 8 p.m.
The drop-in fee is $2 per hour, and clay is $1.50 per pound.
Join us for monthly Clay Circle discussions! Sessions may focus on a certain topic or may include a free-ranging discussion about current challenges and interests.  Clay Circle gatherings provide an opportunity to bring questions, learn, and share with other clay enthusiasts. Please click on the link below for more details about the next monthly Clay Circle.
Clay Circle is held on the third Thursday of each month from 11 a.m. to Noon.  There is a $2 drop-in fee to attend.