Help us Navigate the Boulders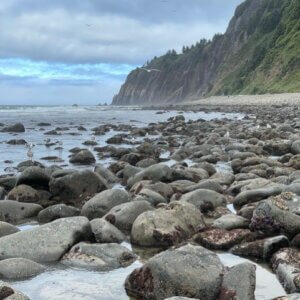 Dear Friends,
As another challenging year comes to an end, we are reaching out with a heart-felt thank you and humble ask for your continued support. We really are nothing without creative artists, eager participants, generous donors, energetic volunteers, and expert instructors. Only together do we realize our mission to be "a welcoming place for North Oregon Coast residents and visitors to create, explore, and enjoy arts and culture." Huzzah!
Throughout 2021, the Hoffman Center maintained a robust on-line class schedule and presence in Clay, Horticulture, Visual Arts, Writing, and the Gallery despite the very real separation and other obstacles Covid caused.  Even with that challenge, we provided an abundance of virtual events to keep people creating and connected. And as a very special community event, our summer Tiny Gallery exhibit held in the Wonder Garden attracted more than three times the typical number of visitors to wander among the plant collections and delight in the tiny art galleries. We have enclosed articles from two regional publications, Artwatch and Ruralite, that feature the Hoffman Center for the Arts to give you a sense of what we've been up to and how we have adapted to the pandemic. This has been a big effort with significant success, demonstrating that your investment in us pays dividends.
Looking ahead, the Hoffman leadership is focused on providing a sustainable organization with a sound financial future and also planning for our first full-time staff member. This person will allow increased Hoffman Center operating hours; give day-to-day volunteer, visitor, and participant support; reduce volunteer burn-out; and help enhance programs.
Our success is created by volunteers, instructors, artists, participants, and donors. A gift of any size supports the Hoffman Center values of community and arts engagement, inclusivity, and an accessible environment where creativity, innovation and diversity thrive.  If you have not donated before, please consider the Hoffman Center.  If you can give again, we express our deep gratitude.
---
Click here to read about the Hoffman Center in Ruralite
Click here to read about the Hoffman Center in Oregon ArtsWatch
---
Sincerely,
On behalf of the Hoffman Board of Directors
Mary Roberts, Board President