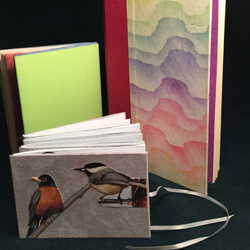 Visual Arts Workshop
Bookbinding Workshop
March 30-31 | 10:00am to 3:00pm
Tuition: $100
Materials Fee: $25 [paid to the instructor]
Hoffman Center | 594 Laneda Avenue Manzanita
This workshop will cover three different methods of bookbinding: a single signature hard bound book or journal with blank pages, an accordion style book made from a single large sheet of paper, and a "no glue" small book. Students will also practice printmaking techniques using marbling, chalk rubbing and paste to decorate papers for book covers.
Students will come away with three beautiful books of their own making ready to be filled with writing, sketching, doodles, collages, or gifts.
Bookbinding is an ancient craft practiced by cultures throughout the world. Palm leaf and bark were the early forerunners to paper. Bound by cords the hard covers were ornately decorated. Scrolls made from papyrus sheets were rolled to ease handling and storage. An estimated 700,000 scrolls were in the Egyptian library in Alexandria when it was sacked and burned to the ground by Arabs in 640AD.  Early modern books were made from binding individual sheets of vellum.
Barbara Temple Ayres has a degree in Art and German Literature, and an MAT in Art. Ayres began her career as a production potter.  She helped found Fire Mt. School in Falcon Cove where she taught elementary kids over a span of 25 years. She started a summer art camp through the Cannon Beach Arts Association, which is in its 17th year. Ayres learned and practiced bookbinding while teaching kids. She also entered the complex world of watercolor ten years ago. She is a well-known artist, and host in the Hoffman Clay Studio and Gallery.
Barbara says "art knocked me over in college and I've been smitten ever since."
Student Materials List:
Scissors
Glue Stick
Pencil & pen
Ruler
Any rubber stamps you want to use
Note: We need a few paper cutters for this class. Please bring one to share if you have one.
March 30, 2019




10:00 am - 3:00 pm

March 31, 2019




10:00 am - 3:00 pm