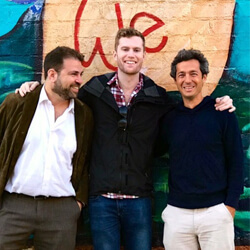 Live Music at the Hoff
Brazilian Strings Trio
Ted Falcon, Andrew Finn Magill, and Nando Duarte
Thursday, April 25 | 7:00 pm
Admission $20 — please cash only — all ages welcome
Hoffman Center for the Arts | 594 Laneda Avenue
Brazilian Strings Trio returns to Hoffman Center for the third time!
Hot and Sweet Jazz with a Soulful South American Flair
The Brazilian Strings Trio returns for the third time to Hoffman Center! After a rousing performance last year they return to the welcoming north coast as part of their West Coast Tour.
The Brazilian Strings Trio joins three of the most innovative instrumentalists on the contemporary Brazilian musical scene. Ted Falcon and Andrew Finn Magill are both multi-genre American violinists who after years of living in Brazil have become ambassadors of the growing Brazilian violin movement. Rounding out the trio is Brazilian guitarist Nando Duarte, a giant of the contemporary Brazilian music scene and an award-winning composer and arranger.Violinist and mandolinist Ted Falcon has released eight CDs, performed with many Brazilian legends including Hermeto Pascoal, Hamilton de Holanda and Dominguinhos and regularly with his various musical projects including 3 Violinos, 3 Continentes, Gypsy Jazz Club and the duo Ted and Pablo, a partnership with harmonica player Pablo Fagundes. Their CD, Ted & Pablo, Transcontinental Music Express, was pre-nominated for best instrumental record of the year in Brazil. Ted has written and published several books about Brazilian choro, forró, and frevo and is a former Adjunct Professor of Music at Whittier College and a current music teacher at the Silverlake Conservatory of Music.All-Ireland fiddle finalist Andrew "Finn the fiddler" Magill has watched his career surge ever since the 2016 release of his 2-disc concept album Roots & Branches. Magill has carved out a name for himself in Irish, American and Brazilian music and has taught these traditions at more than a dozen fiddle camps all over the world. His fifth studio album Canta, Violino! will be released April 6th, 2018 on Ropeadope Records, which writes Airto Moreira of Miles Davis & Chick Corea fame: "Finn Magill displays a love and authenticity that can fool you into thinking he is from Brazil. His style is playful and light, yet soulful and passionate. Congratulations!"Born in Rio de Janeiro, 7-string guitarist Nando Duarte, has become one of the leaders of Brazil's popular music re-awakening with Dino 7 cordas as his mentor and Luiz Otávio Braga and Hélio Delmiro among his professors. His career as a seven-string guitarist led him to play, arrange, and produce some of the biggest names in Brazilian music, including Elza Soares, Gal Costa, João Bosco, Zeca Pagodinho, Marisa Monte, and Ney Matogrosso. His musical "Sambra" (2015) with Diogo Nogueira was the first Musical ever to be presented on stage at Rio de Janeiro's New Year's Eve party on Copacabana beach with over 2 million people and is now competing for a Cannes Golden Lion. He was also the musical director for the "One Year to Go" Olympic show, the only pre-show for the Rio de Janeiro 2016 Olympics.
Ted Falcon, Andrew Finn Magill, & Nando Duarte
April 25, 2019




7:00 pm - 9:00 pm