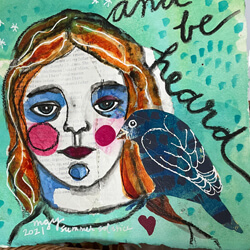 Visual Arts Workshop
Wild and Crazy Portraits
with Melissa Young
October 3 | 10:00am -3:00pm
Tuition $65
Via Zoom | Zoom link will be sent day before workshop

Take a walk on the wild side,
and take your creative side on a joy ride!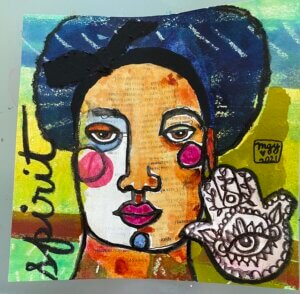 Learn wonky, free-form portrait drawing that requires no previous art experience. Create a paper-based mixed media project using pages torn from a book, layered onto a background, and adorned with whatever features they ask for. Melissa will introduce you to multiple mediums to explore their qualities: from gesso to high flow acrylics, water-soluble pencils, matte medium, and acrylic markers.
You'll be encouraged to trust your instincts and go for it with reckless abandon! This workshop will be fun, not serious or perfect, and you'll create one or two 8" x 10" finished pieces, which hopefully sparks future creative endeavors.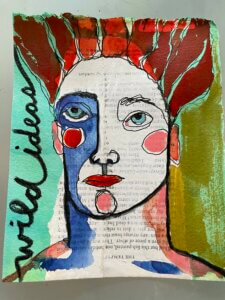 Melissa Young's career has been spent in family medicine. But she says:
"I've always used creative outlets to help keep me grounded."
She has dabbled in ceramics, jewelry making, spinning & weaving, quilting, and acrylic and watercolor painting. Over the past few years, she enjoys sketchbook journaling for both every day and traveling. She finds it a useful tool for spring-boarding other larger artworks from ideas developed on her journals' pages.
So, DO IT! Sign up today, as it is never too late to commit yourself to practice your art in 2021 and watch your astounding art unfold.
You do not need experience, but you will need some materials, an open mind, and a sense of humor.
Materials List:
Watercolor paper (140Lb), two sheets of paper, 8" x 10" or one large sheet
Matte Medium (or any other paper or collage glue)
White gesso or watered down white acrylic or gouache
White pen (Posca .7mm bullet-shaped) or white ink
Golden High Flow acrylic in Quinacridone Nickel Azo Gold, Magenta, Indigo, or any other liquid translucent acrylics
Bombay India Ink – Tangerine (if you like that orange pop) or equally wild color
Watercolor for background wash (optional)
Large paintbrush (flat 1" of similar for wash), and a smaller brush for detail
Light-bodied metallic acrylic paint, Metallic Gold recommended (Melissa uses Jacquard Light-Body Metallic Acrylic – Metallic Gold.)
Notes: Feel free to substitute what you have on hand, including using old watercolor paintings torn to size, other luminescent liquid acrylics, waterproof ink pens, and more.
Material lists were sent to Dots 'N Doodles in Astoria and Merriartist in McMinnville.
Some supplies may be found at JoAnn Fabrics, Target, Fred Meyer, }
and online retailers like Amazon and Dick Blick.
October 3, 2021




10:00 am - 3:00 pm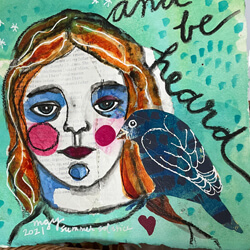 Wild and Crazy Portraits -with Melissa Young