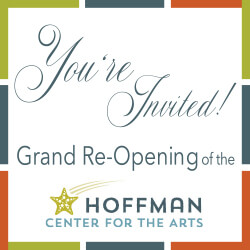 Hoffman Community Party
Hoffman Community Event
Free and Open to the Public
Celebrate together!
Join in the fun during an open house on January 4, 2020 from 1-4 pm.
Enjoy the Hoffman Center's Annual Color Show featuring a wide variety of art forms inspired by the color green and created by our community of North Coast Artists from Astoria to Tillamook. Art includes ceramics, collage, fiber, drawing, painting, photography, and sculpture.
View the repairs and renovations completed during December: Two loos,  improvements to the Gallery, repainting of clay studio floor, and deep cleaning of surfaces and recesses within the building.
At 2:30, Board President Mary Roberts will share some brief comments acknowledging the hard work of our volunteers and contractors.  Right after that, three members of our writing community will share three pieces inspired by the color, green.
The amazing window coverings Lloyd Lindley created to hide the mess during our construction process will be raffled off, but you must be present to win.
Come savor time with friends, enjoy the art and writing, and partake in refreshments–including cake!
January 4, 2020




1:00 pm - 4:00 pm