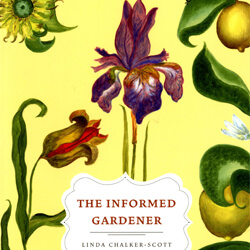 Art of Horticulture
Native Plants Are the Best Plants & Other Gardening Myths
featuring WSU Horticulturist Linda Chalker-Scott
Thursday, May 2 | 1:00-2:30pm
Admission $5
Hoffman Center for the Arts | 594 Laneda Avenue | Manzanita
Gravel in a pot helps drainage. Planting holes amended with goodies improve growth. Wilting leaves mean thirsty plants. When in doubt, use natives!
The question is, are all those received wisdoms actually true? Or might they simply be bad advice that's become garden lore?
Enter the sage of smart gardening, horticulturist Linda Chalker-Scott, a woman who has been outing myths, legends and bad advice about plants for decades. Described as "a champion for evidence-based horticulture," Ms. Chalker-Scott travels widely as an extension horticulturist debunking gardening practices and dubious nursery products. She's also a professor of horticulture and landscape architecture at Washington State University.
Her books include The Informed Gardener, The Informed Gardener Blooms Again and, most recently, How Plants Work (Timber Press, 2016), making plant science accessible as it "eases our minds and lightens our workloads" (New York Times).
Her presentation, Native Plants Are the Best Plants & Other Gardening Myths, will have you questioning received garden wisdom by using a new understanding of how plants actually work. And in case you were wondering:

• Gravel in a pot does not help drainage.
• Amended planting holes can stunt growth in shrubs & trees.
• Wilting is caused by a variety of problems.
• Native plants only work when they're the right plant in the right place!
May 2, 2019




1:00 pm - 2:30 pm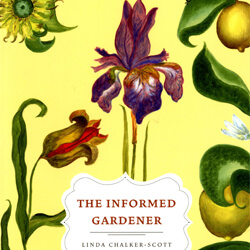 Horticulturist Linda Chalker-Scott