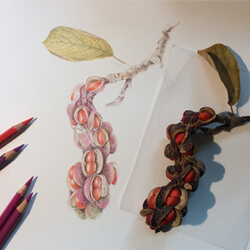 Visual Arts Workshop
Exploring Textures in Colored Pencils
Shiny, Mottled, Specked & Streaked Botanicals
Instructor – Dorota Haber Lehigh
November 9, 2019 | 10:00am-3:00pm
Tuition $45
Hoffman Center for the Arts | 594 Laneda Avenue | Manzanita


Exploring Textures in Colored Pencils, a one-day workshop
focusing on shiny, mottled, specked & streaked botanicals.
Explore colorful textures in a fall botanical drawing using colored pencils. In the fall, nature provides us with an interesting array of colorful textures found in fall fruit, fungi, fall leaves, or seedpods. Explore shiny, mottled, specked and streaked textures in this workshop while drawing and observing fall subjects. All artistic levels welcome. Please bring a variety of small subjects to class that you would like to work with.
Dorota Haber-Lehigh is an artist, educator and a naturalist with a passion for native plants. Born in Poland, Dorota loves traveling, field sketching, and discovering nature. She is inspired by her grandparents, who were avid mushroom hunters, her father's travels and her mother's fabric art and ikebana. She has two degrees—Art and International Studies with a focus on Indigenous Cultures, and a master's degree in
teaching. She also holds a graduate bilingual certificate in Teaching English as a Second Language. She is currently working on a diploma in Botanical Illustration from Society of Botanical Artists in London. She is a member of Oregon Botanical Artists, American Society of Botanical Artists. She enjoys teaching nature drawing, natural science illustration and botanical drawing. More information visit the artist's website.
Materials List
Students will need a sketchbook, pencil, kneaded eraser, an artist quality colored pencil set such as Prismacolor Premier or Faber Castell Polychomos; an embossing tool (Pergamano Fine Stylus 0.5mm); and a colorless blender, of your choice. (Haber-Lehigh recommends Copic Sketch marker colorless blender O).
The following supplies will be available for purchase at the workshop:  Tombow pencil H ($1); Kneaded eraser ($1); Strathmore drawing sketchbook, 5" x 8" ($5). She will also have a few embossing tools for sale at $7 each, and Copic Sketch Marker Blenders for $5.25 each.
Contact Haber-Lehigh for a suggested list of supplies for working with colored pencils: [email protected]
November 9, 2019




10:00 am - 3:00 pm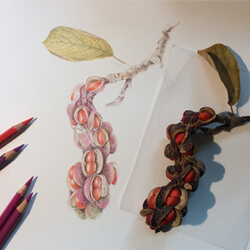 Exploring Textures in Colored Pencil with Dorota Haber Lehigh