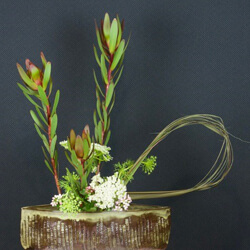 Visual Arts Workshop
Ikebana Flower Arranging with Craig LeCroy
Saturday, June 15
Morning Session | 9:00am-12:00pm
Tuition $30 | Materials fee $5 paid to instructor
Hoffman Center for the Arts | 594 Laneda Avenue | Manzanita
The Art of Japanese Flower Arrangement workshops,
with ikebana artist Craig LeCroy,  are designed for adults
18 years & older with little or no experience in ikebana.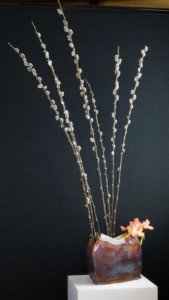 LeCroy will provide an orientation to this ancient art form and introduce Japanese aesthetics: harmony, spirit, simplicity, asymmetry, and closeness to nature. Kerry Milligan will assist LeCroy in both workshops.
Students will select from the available material to make arrangements. Class members will share their arrangement and each arrangement will be discussed according to ikebana principles.
The morning session is from 9 a.m. to noon. The second session is a repeat of the morning session and starts at 1 p.m. and ends at 5 p.m.
Students should bring clippers and kenzans or pin frogs to class. Ideally pin frogs will be 2" in diameter and heavy duty. Students can bring their own ikebana containers or select from the many containers designed by Hoffman potters for use in the workshop and for sale.
In 1982, Craig LeCroy happened upon an ikebana exhibit at the Los Angeles Pacific Asia Museum and was so taken by the exquisite elegance and beauty displayed in the Japanese flower arrangements on display that he began a lifelong interest in ikebana.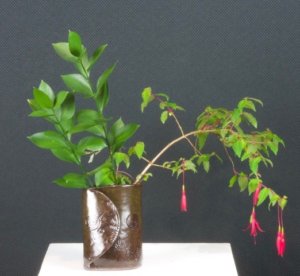 He is currently a student in the Sogetsu School and is excited to share his passion for this art form. LeCroy teaches social work at Arizona State University and practices ikebana and stone sculpture as his main avocation.
The workshops will coincide with LeCroy's ikebana display in the Hoffman Center Gallery.
Students may contact Craig LeCroy for more information on suitable containers, or questions about the workshop at [email protected].
Morning Class


June 15, 2019




9:00 am - 12:00 pm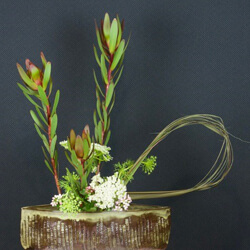 Ikebana with Craig LeCroy