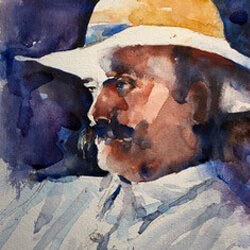 Visual Arts Workshop
Watercolor Workshop — Bold & Loose II
Creating Spontaneity ~ Ebb & Flow of Paint and Water
with Jim Nelson
August 10-11 | 10:00am–4:00pm
Tuition $200
Hoffman Center for the Arts | 594 Laneda Avenue | Manzanita

For students 18 years and older, all levels are welcome
Bold & Loose II will emphasize the importance of freshly squeezed paint and the right balance of water to achieve a loose and fluid style. Nelson's demonstrations will help students learn how to let the flow of paint and water capture the essence of their subject, and how partially mixed colors are more interesting than thoroughly mixed colors. Students will experience the spontaneous and transparent effects of watercolor through instruction on the use of color and value, and how to create depth with soft and hard edges.
The first day's subject is landscape. Students may bring a photo to paint from or select from the Instructor's collection. Nelson's demonstrations emphasize the interpretation of light and shadow and painting what you want to see versus what you see by capturing the feeling of light or air.
Day two will open with a demonstration of how to paint a watercolor portrait. Students can bring a photo or paint from the demonstration portrait, or other photographs provided in class. Nelson will discuss principles of composition and show students how to paint with confidence by learning to simplify their subject by not trying to replicate the photographic details of the portrait. Nelson encourages students to find the reasons they want to paint a particular subject. Is it the pose, the mood, the setting, the angle, or other object in the photograph? Finding your inspiration gives your painting life.
Jim Nelson retired as a biochemist in cancer research eight years ago, and now devotes his time to painting. He has always had an interest in art, and after graduating from college, he started painting with a Japanese nun one night a week. One evening the instructor showed him a Charles Reid watercolor book. He immediately loved Reid's style. It was awhile before Jim could afford Reid's workshops, but once he could, he spent one week every year for twenty-six years painting with "Charlie."
Nelson said his watercolor style and philosophy can be distilled to this iconic Reid quote: "The trick is to allow your paint and a little water to do the painting for you."
Materials List
Artist quality watercolor paints in tubes
Clean palette
Spray Bottle
Brushes: #8, 10,12, & 14 Round; #6 Rigger
1 sheet Arches #140lb Cold Press watercolor paper
Graphite pencil H, or a mechanical pencil, & kneaded eraser
Easel (desk or standing; or something that will raise your board & paper to a slant of six to ten inches.
Gator board & clips to hold paper in place
*Suggested watercolor paints
Three yellows ranging from pale to orange
Three reds ranging from light to deep, & vermillion
Two greens, Hooker, & Viridian (or teal-green shade/blue)
Three blues, French Ultramarine, Cerulean Blue, Cobalt, or similar hues
Pro White
Ivory Black
Raw umber, raw sienna
Burnt umber, burnt sienna
Bring any other paints that you may use such as Alizarin Crimson, Peacock Blue, etc.
Supplies can be found at Dots & Doodles in Astoria, Free Hand and Salt & Paper in Manzanita, or ordered on-line at The Merri Artist, Dick Blick, or Cheap Joes
August 10, 2019




10:00 am - 4:00 pm

August 11, 2019




10:00 am - 4:00 pm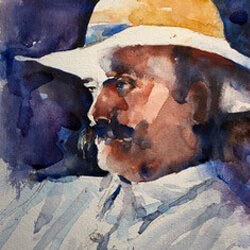 Jim Nelson Watercolor Workshop