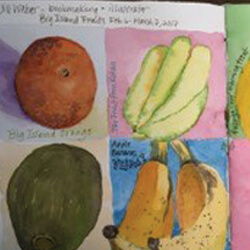 Visual Arts Workshop
Sketchbook Journaling
Sunday & Monday, May 19 & 20 | 10:00am to 4:00pm
with Barbara Temple-Ayres and Melissa Young
Tuition: $100 | Materials Fee: $5
Class will be conducted in the Clay Studio
Hoffman Center for the Arts | 594 Laneda Avenue | Manzanita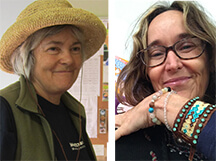 Sketchbook Journaling, a two-day workshop
with artists Barbara Temple-Ayres and Melissa Young
Journaling is a gift you give yourself. Time spent reflecting where you are, right here, right now. This workshop will offer tools to help you incorporate creative expression into your life.
Art journals are a great place to experiment and play with yourself! Even if you think you cannot draw, you will find you can create beautiful pages. Melissa and Barbara will demonstrate and guide you through numerous techniques to help free your creative energies and spill them into your journal. Some entries will be messy and spontaneous and others more precise, with an emphasis on creative lettering.
You will work with pens and pencils, inks, watercolors, spray stains, and incorporate some collage, stencil and stamp techniques into your pages. Your journal experience is uniquely yours, based on your perspective and experiences, and can be filled with snips of the most ordinary things or the most unexpected.
Melissa Young's career has been spent in family medicine.
But she says:
"I've always used creative outlets to help keep me grounded."
She has dabbled in ceramics, jewelry making, spinning & weaving, quilting, and acrylic and watercolor painting. Over the past few years, she enjoys sketchbook journaling for both everyday and traveling. She finds it a useful tool for spring-boarding other larger artworks from ideas developed on the pages of her journals.
Barbara Temple-Ayres has a degree in Art and German Literature, and a MAT in Art.
Barbara says:
"Art knocked me over in college and I've been smitten ever since."
Temple-Ayres began her career as a production potter. She helped found Fire Mt. School in Falcon Cove where she taught elementary kids over a span of 25 years. She started a summer art camp through the Cannon Beach Arts Association, which is in its 17th year. Temple-Ayres is a well-known artist, and host in the Hoffman Clay Studio and Gallery.
Materials included in the $5 fee:
Spray sealant, distress spray stains, watercolors, liquitex matte medium, gloves, paper towels, spray bottle, acurit pens, stencils/stamps, paintbrushes, gold metallic and white ink pens, white acrylic paint, gold ink, dictionary, and reference book on fonts.
Students' Homework:
Collect your thoughts.
Gather & bring to class a folder, or container to gather ideas for your pages.
Images (from magazines, printed from your computer, photos)
Words, verses, poems, sayings, lines from a song.
Bring a black & white photo of yourself as a child or young adult printed on plain computer paper, approximately 4." A school picture head shot is ideal.
Think of a word of intention for your journal such as: Flow, Discovery, Possibility, Reflection.
Materials to bring to workshop:
Watercolor journal: Unlined 5" x 9" book with acid-free paper and a binding that allows the book to lie flat.
Watercolors, palette and brushes (if you have them).
Pens, pencils and ruler.
Other tools you enjoy working with such as colored pencils, inks, etc.
May 19, 2019




10:00 am - 4:00 pm

May 20, 2019




10:00 am - 4:00 pm