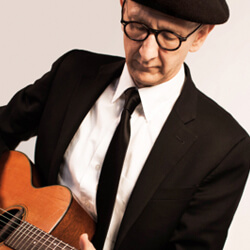 Live Music at the Hoff
Terry Robb Performs
Saturday, 
October 13 | 
7:00 pm
$10
Hoffman Center for the Arts | 594 Laneda Avenue
Terry Robb returns to the north coast for an intimate evening concert at the Hoffman Center for the Arts. Terry played the 2017 Manzanita Music Festival and the NCRD 2018 Mid-Winter Music Festival, so we are excited to bring him into the Hoffman living room for a great evening of acoustic blues.
A dynamic, unforgettable fingerstyle guitar virtuoso, Terry Robb has redefined acoustic blues guitar with his signature fingerpicking style. Drawing international acclaim from worldwide audiences, music critics and his distinguished peers, Robb's unique blues sound, incorporating elements from the Mississippi Delta music tradition, ragtime, country, swing, and jazz, has made him a legend among blues musicians in his prolific music career spanning four decades.
"Unquestionably, Terry Robb ranks right up there with the heavy hitters, a player of dazzling skill and technique." "Exquisite musicality and superlative skill." "One of the best players, on acoustic and electric, embracing a range of blues styles and then some." These are just a few of the accolades paid to acoustic fingerstyle guitarist Terry Robb by Vintage Guitar Magazine and Living Blues since the release of his latest album Cool On The Bloom in November, 2016. And there are plenty more.
In his prolific music career spanning four decades, Terry Robb has been
praised by Rolling Stone,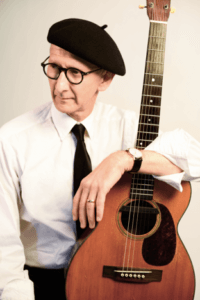 Acoustic Guitar, Guitar Player, Down Beat, Guitar World, Blues Blast Magazine, Oprah's O Magazine, and countless more esteemed journals. He has toured nationally with Steve Miller and Buddy Guy, appeared on "Late Night with Conan O'Brien Show" and "West Coast Live with Sedge Thomson," and performed as special guest of The Oregon Symphony and NBA Trail Blazers.
A dynamic live performer, Terry Robb is a fingerpicking powerhouse who commands attention from any stage. He has shared the stage with B.B. King, Albert Lee, Joe Cocker, Bo Diddley, David Crosby, Leo Kottke, Johnny Winter, George Thorogood and many more all-stars. With more than 15 releases under his name, Robb's recordings feature collaborations with John Fahey, Eddy Clearwater, Maria Muldaur, Ike Willis, Curtis Salgado and Glenn Moore.
"Finger gawkers flood to his shows," wrote Frank Matheis of Living Blues. "Never seen in our latitudes is a stratospheric guitarist like Robb, a true six-stringed sorcerer, with absolutely stunning fingerpicking," said Riccardo Bragga, talent buyer for the Vallamaggia Blues Festival in Switzerland. And on learning of Terry's addition as faculty member of the Britt Music & Arts Festival Guitar Weekend, fellow blues musician and educator Michael "Hawkeye" Herman noted "Terry is an A-1 teacher, player/performer, a great guy, and an all-around superb addition to the event."
Terry Robb has also gained the praise and following of fans across the U.S., Canada, Europe, and beyond. Video from a live performance by Terry at a California performing arts venue in 2007 has drawn more than 985,000 views on YouTube, and counting. Fans from all parts of the globe, of all ages, are astounded by the virtuosity of Terry Robb on acoustic blues guitar.
Since his Living Blues chart-topping release Stop This World in 1996, Terry Robb has toured the Pacific and Atlantic coasts, from Alaska to Arizona and New England to the Carolinas, and Western Europe as a solo artist. He has headlined festivals, performing arts centers, and concert halls, regularly drawing audiences of 100 or more, selling out many smaller venues.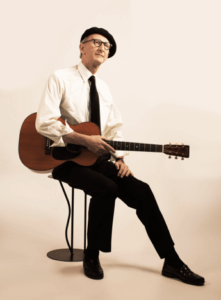 The multitude of awards Terry Robb has received speak to his seminal talent as a blues guitarist. Robb has been inducted into both the Oregon Music Hall of Fame and Cascade Blues Association (CBA) Hall of Fame, and he has an award named after him in recognition of his landmark contributions to acoustic blues in the Pacific Northwest. Terry Robb was awarded the Muddy Award for Best Acoustic Guitar by the CBA for 19 consecutive years – from inception of the award category in 1992 until it was renamed the "Terry Robb" Muddy Award for Acoustic Guitar in 2011, which is presented annually to a Pacific Northwest guitarist. In 2017, the CBA presented him the Muddy Award for Lifetime Achievement.
"Photos courtesy of NiaSounds" (www.niasounds.com)
Terry Robb achieved greatness at an early age, performing with Ramblin' Rex of Frank Zappa / Captain Beefheart fame, Canned Heat's Henry Vestine, and steel-string guitar icon John Fahey. At age twenty-four, Robb produced and played accompaniment on Fahey's album Let Go, which garnered a four-star review by Rolling Stone and led to numerous collaborations for which Robb served as Fahey's producer, arranger and guitar accompanist. As an acclaimed producer and session guitarist, Robb has contributed to countless award-winning projects. He produced Alice Stuart's album Can't Find No Heaven, nominated for Grammy and Blues Music Awards.
Steeped in Americana ethnomusicology, Robb has been featured in numerous films, books, and articles profiling American roots and blues music and the luminaries with whom he has worked. These include the Hollywood biopic "Don't Worry, He Won't Get Far on Foot" about the late cartoonist John Callahan, the documentary film "Portland Mojo: How Stumptown Got the Blues," and the biography Dance of Death: The Life of John Fahey, American Guitarist.
Terry Robb was born in British Columbia, raised in the United States and resides in Portland, Oregon.
October 13, 2018




7:00 pm - 9:00 pm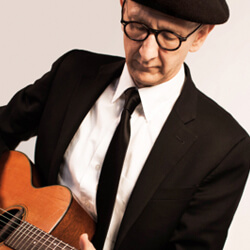 Terry Robb returns to the north coast for an intimate evening concert