Visual Arts Workshop
Luminary Workshop –Let There Be Light
Instructor – Kathy Karbo
September 7-8 | 10:00am-4:00pm
Tuition$160 | Materials fee $30
Kathy Karbo
Let There Be Light, A Metal Lantern Workshop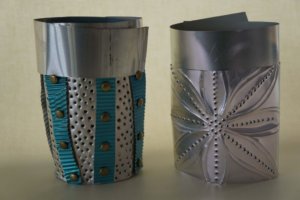 Kathy Karbo
Celebrations and sacred rituals the world over harness the magic of light with luminaries. In this workshop artists will create a lantern installation for a garden or a sconce to grace their homes. A variety of traditional and unconventional tools will promote explorations in shape, texture, light and shadow. Whether workshop artists look to nature, or work in a more abstract manner for inspiration, this need to create and transform materials will result in a luminaria that feeds this primal pleasure to light the dark.
Kathy Karbo has worked as a performing and visual artist for over 35 years. She graduated from the National Shakespeare Conservatory and worked as an engineer for Public Broadcasting Service in New York City before studying colonial crafts at Montclair Historical Society. Basketry was her gateway drug to the world of art and craft. From there, her affinity for sculpture led her to explore book arts, fiber arts, puppetry, mosaic, and metal arts. Her work has won awards and been exhibited both nationally and in Canada. The Regional Arts and Culture Council holds her mosaic "SWIM" in its portable works collection and has awarded her several grants.
Through the Neighborhood Arts Program and Young Audiences, Kathy has worked as an artist and educator for schools, libraries, communities and social service agencies throughout Oregon; and as a PSU artist and guest lecturer for the Portland Illuminata, Portland Parks and Recreation Summer Concerts, Children's Cancer Association Celebration of Heroes, Portland Impact Rhododendron Garden Lantern Installation, "Hay Caramba!' a musical, bilingual storytelling, puppetry mini extravaganza ensemble, and Buckman Elementary School events.
Student Work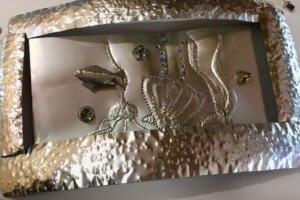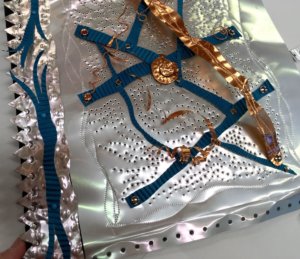 Kathy's formal education includes Montclair Historical Society, John Campbell Folk Art School, Mendocino Arts Center, Marylhurst University, the Oregon School of Arts and Craft, and University of California Los Angeles.
Materials for luminaries are included in the materials fee but participating artists are encouraged to bring the following: Images that inspire you such as textures, shapes, landscapes; scissors and a favorite awl, found objects, trinkets and treasures.
Kathy says "Life at the Oregon coast has afforded her the opportunity to teach at Sitka Center for the Arts and Ecology, the Newport Paper and Book Arts festival, Trails End Arts Association in Gearhart, and Astor Elementary School. "
View Kathy's work
September 7, 2019




10:00 am - 4:00 pm

September 8, 2019




10:00 am - 4:00 pm
Luminary Workshop led by artist Kathy Karbo