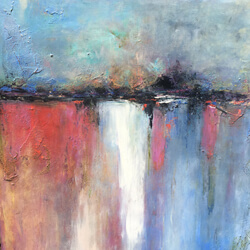 Visual Arts Workshop
The Magic of Oil and Cold Wax
February 1-3 |  10:00am – 3:00pm
Tuition $135
Materials Fee $20 (paid to instructor)

Hoffman Center for the Arts
The Hoffman Center for the Arts in Manzanita will offer The Magic of Oil and Cold Wax,
a three-day workshop February 1-3, 2019, from 10:00am to 3:00pm each day.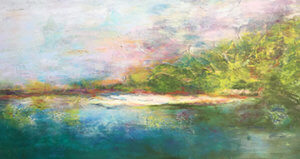 Led by Pacific City artist Lynne Wintermute, students will discover the beauty of painting with oil and cold wax medium to bring luminous layers of wax and paint to their abstract and landscape paintings. Like archeology in paint, students will rub layers together to create magic colors and tones by digging, scraping, collaging, and texturing.  Several paintings on oil paper will be completed over the course of the workshop.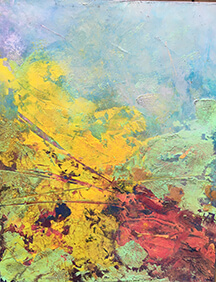 Wintermute, a native Oregonian raised by one of the first female architects in Oregon, received her Bachelor of Fine Arts from Linfield College. She continued her education at the Museum Art School (now Pacific Northwest College of Art) and studied in Ireland and England. After college, Lynne worked professionally as a fabric and textile artist which led her to Pendleton Woolen Mills where she spent 12 years in sales and marketing.
Art and sculpture were always a part of her life, but she was unable to devote herself full time until six years ago when she began teaching at Sitka Center for Art and Ecology. She continues to teach at Sitka today and other cultural centers and galleries in Oregon. Lynne lives and works in Pacific City on the Oregon coast with her husband and their boxer "Max." More information about the artist may be found at: www.lynnewintermute.com.
Materials List:
6 Cradled boards, any size, gessoed. One small container Gamblin cold was, one small jar Gamblin Galkyd lite. Oil paints, your preference of color. Catalyst Wedge, palette knives, wax paper palette. (A complete list of materials may be found at Merri Artist in McMinnville and Artist and Craftsman in Portland.)
Find out more about lodging and dining while you're in Manzanita at exploremanzanita.com
February 1, 2019 - February 3, 2019




10:00 am - 3:00 pm