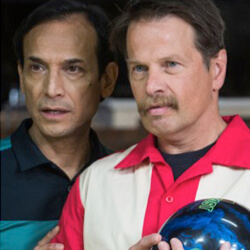 Manzanita Film Series Presents
Film — Phoenix, Oregon
Friday, June 28 |  7:30pm
Admission $5
Doors open at 7:00pm
Hoffman Center for the Arts will screen the 2019 feature film "Phoenix, Oregon,"
directed and produced by Oregon independent filmmakers Gary and Anne Lundgren
The film tells the story of graphic novel artist who after a divorce finds himself living in a trailer and working behind a bar for an egomaniac.
As delusions of aliens controlling his life begin to take root in the midst of a mid-life crisis, one of the artist's old friends decides reactivating an abandoned bowling alley would be a great way to re-ignite his passion for the sport while serving the world's best pizza.
After ultimately deciding to take the risk and put his mother's small inheritance into the alley, the realities of owning a small business begin to cast doubts on the partners' plans to take control of their own lives.
The film stars James LeGros, Jesse and Borrego, and Diedrich Bader. It was filmed in Klamath Falls, and runs 98 minutes.
The Hoffman Center previously screened three Lundgren feature films — "Black Road," "Redwood Highway," and "Calvin Marshall."
The Manzanita Film Series is a program of the Hoffman Center for the Arts in Manzanita. Films are screened monthly throughout the year.
June 28, 2019




7:30 pm - 9:30 pm