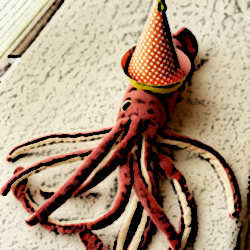 North Coast Squid 8th Edition Celebration
Saturday, October 2, 2021
4 p.m. via Zoom
FREE Event
Join us to celebrate the newly published eighth edition of the North Coast Squid, a Journal of Local Writing and Art.
We'll miss having the event at the Hoffman Center for the Arts where we can hobnob with our fellow contributors and friends, browse a selection of the original art together, and listen to some of the writers share their work. And, of course, there's that CAKE!  We've always had a packed house for this event and someday we will again.
Meanwhile, we're striving to make our virtual event as fun as possible.  Andy Barker, intrepid leader of the Squid team, will serve as your MC along with upcoming featured author Evan Morgan Williams.  We'll have short readings from selected writers and a quick tour of the Gallery to pique your interest for an in-person visit. Sadly, no cake.
Register now, and we'll send you a Zoom link the day before the event (make sure you add us to your contacts, or check your spam and promo folders).
Starting September 30, and all through October, you'll be able to visit the Hoffman Gallery (open Thursday through Sunday, 1 to 5 p.m.) to browse the original art by the artist contributors as well as purchase copies of the North Coast Squid.  The journal is bigger and more colorful than ever, featuring the work of nearly 60 contributors!
Contributors: you can pick up your complimentary copy at the Gallery as well.  Sadly, no cake.
October 2, 2021




4:00 pm - 5:30 pm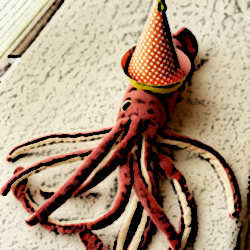 Celebrating the eighth edition of the North Coast Squid.