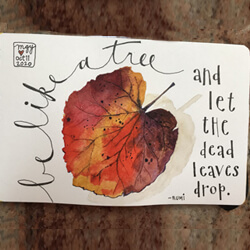 Visual Arts Workshop
Sketchbook Journaling – Gatherings
with Melissa Young
Tuition $35
November 19 | 10:00am-12:00pm PST
via Zoom | Zoom link will be sent to participants day before class
Join Melissa Grace Young as she leads us in a two-hour sketchbook journalling workshop focused on inward & outward autumnal transformation.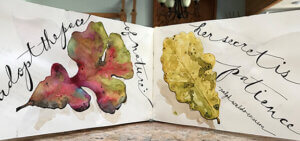 "Be like a tree, and let the dead leaves drop." -Rumi
Gather fallen leaves, gather nature quotes, gather your supplies… & gather with your fellow sketchbook friends on Thursday, November 19th
for an inspiring session of creative journaling. Focus is on vibrant color choices and imaginative lettering practice.
Supplies:


Watercolors
Pencil & Eraser
Fine-lined waterproof pen/marker
A large safety pin or other sharp tool you can grip
Brushes
Water
Paper towel
Unlined journal, 140lb watercolor paper
Gathered leaves: find interesting shapes & colors & BIG ones. Press under a book
November 19, 2020




10:00 am - 12:00 pm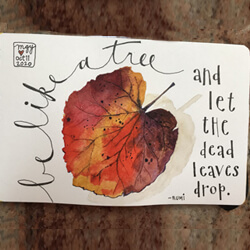 Sketchbook Journaling – Gatherings