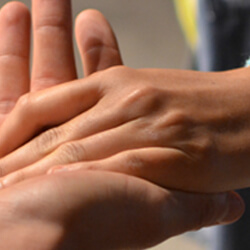 Art of Dying
Suicide Awareness
DeAnna Pearl
Wednesday, September 25 | 3:00-5:00pm
Admission: $5
DeAnna Pearl, Master Suicide Intervention Trainer, will provide a short training
on a suicide intervention model of QPR, Question, Persuade, Refer.
As part of the Art of Aging/of Dying series, DeAnna Pearl, Master Suicide Intervention Trainer for SOS Tillamook, will provide a short training on a suicide
SOS Tillamook supports Tillamook County residents to strengthen resiliency by supporting continued living in health and wellness.
Suicide Intervention and Prevention is everyone's business.  It takes a community to build the resiliency of a suicide safer community.  Even if you have never personally been affected by a suicide, we all need to understand our part in providing hope in the form of a suicide safer community were everyone has the ability to help in some shape or form.
You'll learn the difference between recognizing and acting where there are vague ideas of suicide before these lead to a self-inflicted injury, and how that can mean the difference between life and death.
The workshop will uncover the myths and facts about suicide, the ways to approach a person with thoughts of suicide, and where to find the resources in Tillamook County, Oregon and the nation.  "The number one reason someone doesn't do something is because they don't know where to go."
"If you can't for some reason approach someone whom you might think is having thoughts, find someone who can.  That is just as important," says DeAnna Pearl.
Comments from past attendees:
"This training was very positive. I feel more confident in my role as a helper."
"Thank you for offering the class. I feel incredibly more prepared to recognize
someone who has thoughts of suicide."
"I felt well prepared before, I know now that I was not as well prepared as I am now."
DeAnna Pearl is a Master Suicide Intervention Specialist and a nationally recognized speaker and presenter. She has her masters from the George Washington University and is a Certified Prevention Specialist.
Over her 17 years in prevention, one thing is clear, the importance to include suicide intervention and prevention in conjunction with Alcohol, Tobacco and Other Drugs, and problem gambling awareness.  These often go hand in hand with people who have thoughts of suicide and are often not addressed in current prevention efforts.
If you'd like to be on an email list for the Art of Aging/of Dying announcements, email Tela Skinner at [email protected].
The Art of Aging/of Dying Series is a program of the Hoffman Center of the Arts and will be held at the Hoffman Center (across from Manzanita Library at 594 Laneda Ave). For more information contact Tela Skinner at [email protected]
September 25, 2019




3:00 pm - 5:00 pm