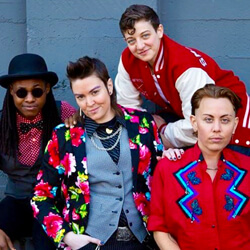 Live Music at the Hoff
Turnback Boyz: a time traveling queer boyband
Saturday, June 8 | 7:00pm
Admission $10-20 sliding scale
Tickets can be purchased here
Hoffman Center for the Arts | 594 Laneda Avenue | Manzanita 
Turnback Boyz is a time traveling queer boyband, exploring history and pushing back against toxic masculinity. 
This inter-galactic, collaborative musical theater ensemble stars Oliver Gold, Peter Pansy, Tommy Tugunns and JB Bender! 
Turnback Boyz feature original songs including Love is Cheesy, Femme I See You, Consent is Sexy, Fool's Gold, Self Made Man, Yelling in the Dark, plus covers of some of your faves! 
With live music, sweet sweet harmonies, cool choreography, fabulous fashion, witty banter and queer history lessons, we will turn you! 
The Turnback Boyz hit a pleasure nerve anyone, gay or straight, can access
Performance will be ASL interpreted
Post Show Talkback
Deconstructing the Boyband ~ on gender, race, pop culture and collaborative creative process
an interview with the Turnback Boyz.
June 8, 2019




7:00 pm - 9:00 pm