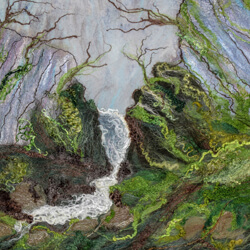 Visual Arts Workshop
Wet Felt Abstract Landscape
with Jennifer Bencharsky
Saturday, February 22 | 9:30am-4:00pm
Tuition $100 | Materials Fee $35
Hoffman Center for the Arts | 594 Laneda Avenue | Manzanita
Hoffman Center Offers a Wet Felting Workshop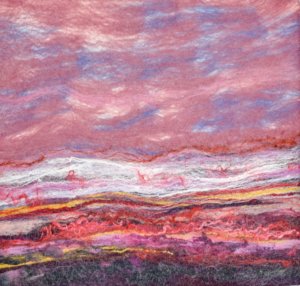 The Hoffman Center for the Arts in Manzanita will offer Wet Felt Abstract Landscapes led by Newberg artist Jennifer Bencharsky.
Learn how to create an abstract landscape using wet felting. This class will demonstrate techniques used by Eastern Europeans for centuries. Wet felting predates weaving and is an amazing art form with endless possibilities.
All materials are supplied. Students will use high quality wool and silks to create pure beauty. The 17" x 22" abstract will be finished by your choice of all kinds of details.
Wet felting is physical.  You will be standing half of the day, while using your arms and upper body to roll your work on a pool noodle to lock/shrink in your landscape.
Jennifer Bencharsky was introduced to wet felting in New Zealand in 2006. She says it was a "game-changer." She has been involved with art all her life as a makeup artist, interior designer, faux painter and more. She was a self-taught wet felting artist for 8 years until she found teachers in Scotland, Australia, Hungary, Canada, and Russia. Now, she is a full-time felting artist working with designers on large installations in commercial buildings and businesses. Her art has been accepted into many juried shows and festivals and can be found in private collections world-wide.
February 22, 2020




9:30 am - 4:00 pm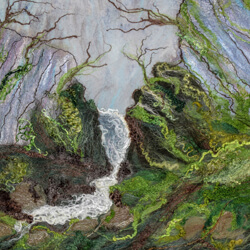 Wet Felt Abstract Landscape