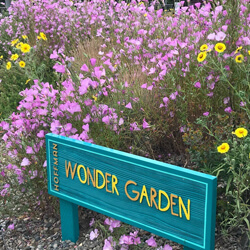 Art of Horticulture Plant Sale
Hoffman Wonder Garden Plant Sale
Order online NOW for curbside pickup
Saturday September 26  | 9:00am-1:00pm
Location to be provided
                        Plants of the Wonder Garden Sale

Trachelium, pictured here, will be on sale!
We've longed to share some of our favorite plants from the Wonder Garden and at long last we are ready. Announcing our first Plant Sale!
Here's how you play:
1. Click here to peruse our online Plant List 
2. Follow the easy instructions on the order form
3. Pick up your plants curbside September 26 at your assigned place & time
We're featuring plants that thrive in the Wonder Garden where life is quite sunny and the drainage quite fast. Since we want you to succeed wildly, please keep that in mind as you shop. If your garden is mostly shady, resist temptation! as tempting as our plants will be.
Lastly, don't dawdle! Order immediately if you're interested since supply is truly limited. Every plant on sale has been spoiled rotten to look its best and is ready for immediate fall planting.
Thank you, fellow plant lovers, for you continued support of the wondrous Wonder Garden.
September 26, 2020




9:00 am - 1:00 pm