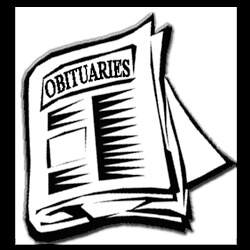 Art of Aging
Writing Obits
Wednesday, November 14 | 3:00-5:00pm
Admission $5
Hoffman Center for the Arts | 594 Laneda Avenue | Manzanita
Join us to Celebrate Your Life as you draft your Obituary
Art of Aging/of Dying series 
If you've ever had to write an obituary for a loved one, you know how hard that can be especially during a time of intense grief. If you, like Kathie, read obituaries, "no, not to be morbid, but as an honoring and out of curiosity," you'll know there is a wide variety. Many are pretty darn boring, just the facts in response to the template most funeral parlors ask you to fill in. Others capture the life and spirit of the individual, the true person who lived between the lines of roles like career, parenting, volunteer work. Which would you rather have represent you when you are gone? Boring or Spirited?
Join us to learn what professional obituary writers have to say, hear examples that will inspire your own, and yes, get a start on writing your own as a gift to those who will have to write it when it's time. This exercise can be a true celebration of your life. Bring a notebook and pen, or paper, or even your laptop if you prefer. You'll walk away with a start and with questions to spur you to fill in more after the session. You'll also walk away with an assignment (that you are welcome to do before Nov. 14) of choosing your own favorite photo that you'd want attached to your obit.
Prior to "retiring," Kathie Hightower spent 26 years doing workshops in the corporate and government world, traveling the world the past 20+ years presenting workshops for military spouses, focused on happiness, stress/energy management, and especially on how to see possibilities in the face of obstacles. Now she's focusing her research on the topic of Second Adulthood, how to stay active, engaged, healthy and purposeful after 50, and yes, how to see possibilities when faced with obstacles of aging. Kathie last presented a workshop on the "Thriving in 2d Adulthood" for Art of Aging.
If you'd like to be on an email list for the Art of Aging and Art of Dying announcements, email [email protected]
The Art of Aging/of Dying Series is a program of the Hoffman Center of the Arts and will be held at the Hoffman Center (across from Manzanita Library at 594 Laneda Ave). For more information contact Tela Skinner at [email protected]
November 14, 2018




3:00 pm - 5:00 pm