---
Helianthemum 'Henfield Brilliant'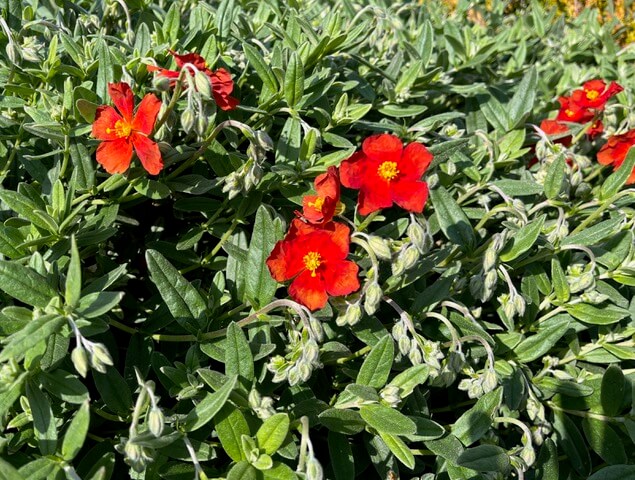 If there was ever a month when the earth laughs in flowers, it's May, a ridiculously giddy time in the Wonder Garden. Every day a new plant bursts into bloom creating a ruckus: I'm screaming yellow and you WILL pollinate me! I'm relentlessly pink and I will NOT be censored!
Add flower colors from wine red to luminous white and you're looking at the many-hued faces of the evergreen groundcover, Helianthemum nummularium, its common name sun rose.  Easily a dozen different varieties are available in nurseries, their shades ranging from a whisper to a shout. Yet no matter what color, helianthemum love life on the coast and ask only sunshine, good drainage and the very occasional drink of water.
Currently blooming in the Wonder Garden is our personal favorite: 'Henfield Brilliant', a sun rose variety we prefer not simply for its drenched orange flowers but also its downy, silvery gray foliage. Given the ephemeral nature of flowers, foliage really matters, particularly when its visible all year.  'Henfield Brilliant' doesn't have a bad day (boring sometimes, but never bad). Plus, like all varieties of helianthemum, it's resistant to pests and disease and does a good job of smothering low weeds.
Helianthemum is longer blooming than a lot of May flowers (think of iris—think fast!). In even-tempered weather, you could see a solid mass of color give way to sporadic bloom for as long as a month, all this on a eight-inch tall plant that will spread two feet in just a few years.
And about those 'Henfield Brilliant' flowers: HELLO! The fiery color is right up there with the best oranges in the WG: the now-blooming orange wallflower (the genus, Erysimum), the summer-blooming butterfly weed, Asclepias tuberosa and that gotta-have-it dahlia, 'Forncett Furnace' (Hint: get it). As garden trends go, orange has been the new black for a few years now and it's no wonder. Put it next to another party-loving color and it might as well be May.
---