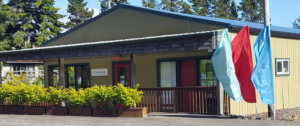 Welcome to summer's longer days, warmer weather, and beach-loving hours.
First, an important Covid update: we intend to reopen our building for indoor classes and events by early Fall. We are guided by the Oregon Health Authority's statement that once 70% of people in Oregon ages 18 and older receive a first dose of a vaccine, most of the current restrictions will be lifted. Wearing masks for extended hours or all-day classes is not comfortable nor conducive to an enjoyable learning experience.  And frankly, no one wants to police mask wearing and vaccinations to permit indoor events at this time.
But! See what's happening right now. Visit the Gallery on Thursdays through Sundays 1-5. The June show features paper art by Poppy Dully and Emilio Lobato. Our Clay Studio offers potters drop-off/pick-up kiln services every Wednesday 10am to 12pm. We have scheduled some outdoor and virtual classes, so check out our calendar by clicking here for details on what's ahead.
Friday Night Fun:
We have lost a year of letting people know about the Hoffman. Oh dear. But, we could show up at the Farmer's Market with some Hoffman postcards and let folks know all the cool opportunities we offer.
We're looking for volunteers! Requires outgoing, organized, and willing to recruit other volunteers as needed to cover Friday nights starting July through mid- September.Easy peasy, just need someone to organize.  We could really use your help this summer. Please respond to [email protected] with your interest.
Connecting with others through Art:
We've been so separate. It is time to be visible again and recharge this community.
The Hoffman needs for volunteers in many areas for jobs big and small! If you are interested in art and thinking of getting more involved and making a difference, perhaps wanting to get out and connect with people, visit hoffman VOLUNTEER to express your interests and we will connect you to the right person.
On behalf of the Hoffman Center fot the Arts,
Mary Roberts
Board President