Word & Image Submission Information
THE NEXT SUBMISSION PERIOD IS IN APRIL 2022.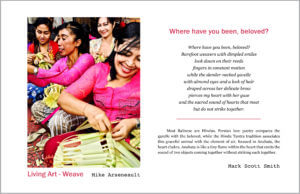 All work must be submitted electronically. A submission button will be activated in 2022.
WRITERS must submit three pieces for consideration. Previously published work is acceptable. Maximum length for poetry is 30 lines, and the maximum length for prose is 250 words. (Yes, we know, this is not very many words!)
Our goal is to be able to pair the writing and art on the printed broadsides in a way that is readable and aesthetically pleasing. Excerpts from longer works are welcome.
Submissions must be a Word document, in 12 pt font and with one inch margins. Please submit all three entries in ONE FILE with page breaks separating the pieces.
Please use the title of the first piece as the file name. Do not include your name and contact information in the document or file name. The editorial team takes no responsibility for correcting spelling or grammar, so please proof your work before submission. Too many errors may disqualify the piece.
ARTISTS must submit digital representations of three separate pieces for consideration. These may be in any medium (including 3-dimensional) and may have been previously published or sold.
Images will print (on the broadsides) at 300 pixels per inch (ppi) at a rough size of 6 x 8 inches. That means they need to be high quality images with a lot of digital data. This means a file size of at least 1.5 MB and ideally 3 to 5MB.  Note:  If appropriate an file size is not available, your piece may be disqualified.  For more image tips, see below.

JUDGING is based solely on the strength of the work submitted. Judges read/view submissions blind to ensure their decisions are based on the work, not the person. Judges will be looking for a wide variety of subject matter, not limited to beach themes.
All work must be submitted electronically using the Submit to Word & Image button below. The system will prompt for submission category and title, allow uploads, and ask for a bio no longer than 50 words, which includes the author/artist's connection to the north Oregon coast area.
More Image Tips for Artists
All photos should be the original file for the highest quality reproduction and should be in focus, well-lit, not grainy, and not cropped.
If you use a camera phone, please change the settings to the highest possible quality setting and export the media off your phone at the largest size.
Photos that are used on websites are generally saved at a much lower resolution than is required for printing and are NOT usable.
Do not distort the image by applying photo filters or effects.
Do not attempt to increase the size of an existing image using filters or software. This will not improve the quality or make it appropriate for printing.
Avoid using your camera's built in flash; it washes out the image and creates dark outlines and cast shadows.
If your photo or video is too dark, try adding more light by opening blinds or moving closer to a window.