Word & Image Submission Information
SUBMISSIONS PERIOD OPEN: 
APRIL 1 – APRIL 30, 2018.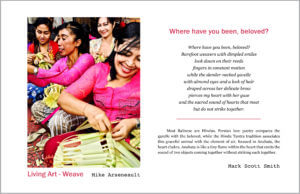 All work must be submitted electronically using the Submit To Word & Image button below. Submissions can be made from 12:00 a.m. on April 1 through 11:59 p.m. on April 30, 2018.
WRITERS must submit three pieces for consideration. Maximum length for poetry is 30 lines, and the maximum length for prose is 250 words. (Yes, we know, this is not very many words!)
Our goal is to be able to pair the writing and art on the printed broadsides in a way that is readable and aesthetically pleasing. Excerpts from longer works are welcome. Previously published work is acceptable.
Submissions must be a Word document, in 12 pt font and with one inch margins. Please submit all three entries in ONE FILE with page breaks separating the pieces.
Please use the title of the first piece as the file name. Do not include your name and contact information in the document or file name. The editorial team takes no responsibility for correcting spelling or grammar, so please proof your work before submission. Too many errors may disqualify the piece.
ARTISTS must submit digital representations of three separate pieces for consideration. These may be in any medium (including 3-dimensional) and may have been previously published or sold. Each must be submitted separately.
To ensure high quality reproduction, photographs (and photographs of art) should be in jpg or jpeg format, with at least 300 dpi in resolution; line drawings should be scanned at 300 dpi resolution.  Higher resolution is even better.

JUDGING is based solely on the strength of the work submitted. Judges read/view submissions blind to ensure their decisions are based on the work, not the person. Judges will be looking for a wide variety of subject matter, not limited to beach themes.
All work must be submitted electronically using the Submit to Word & Image button below. The system will prompt for submission category and title, allow uploads, and ask for a bio no longer than 50 words, which includes the author/artist's connection to the north Oregon coast area.