We are happy to say that we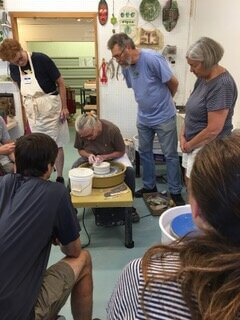 are easing back into offering in-person Clay Studio experiences at the Hoffman. We offer two in-person experience options along with our kiln firing services.
All experiences now require an online reservation at least an hour beforehand and proof of Covid 19 vaccination while in the studio. If you are sick or have been around someone with symptoms of COVID19, please do not come to the studio.
We no longer have drop-in studio hours.
The Hoffman Clay Studio is a community resource for people to practice the art of ceramics.  Ceramics is a unique, multi-step art form that requires time and attention along the way.  To support ceramic artists, the Studio offers passes for studio work along with a limited set of materials and kiln services for sale.  Along with studio experiences, we also offer lessons and periodic classes and workshops for would-be potters over 18 years of age.
We offer Full Passes for experienced ceramic artists.  Find details and purchase the Full Pass here.
Day Passes are offered by reservation only for $12 per 3-hour, hosted sessions on:
Tuesdays and Saturdays between 10 a.m. and 1 p.m.
Thursdays between 5 and 8 p.m.
The $12 fee includes use of the equipment and glazes. Kiln firings and clay are priced separately.
Reservations are limited to 6 people per session and can be made up to an hour before the session.
Click here to reserve your spot.
Payment may be made with exact change cash or check at the studio. Online payments will be available in the future.