Neahkahnie Mountain Poetry Prize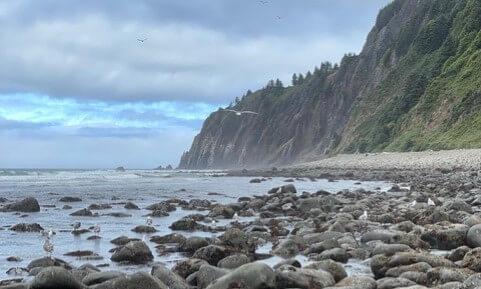 Submissions are closed for this year's Neahkahnie Mountain Poetry Prize and the winners are shown below.
The first place winner received $100 cash and has their poem published on the website and in the ninth edition of the North Coast Squid in 2023. Second and third place winners also get their poems published on the website (see below). Honorable mentions are also listed below.
In addition, the winning poets will read their work at a special Hoffman Center event on April 23 which will celebrate the launch of a new poetry collection by part-time Manzanita resident Connie Soper. The reading begins at 3 pm. For details and registration, click here.
The contest judge this year was Lauren Mallett, the second place winner of 2022's Neahkahnie Mountain Poetry Prize. She earned her MFA and was the Assistant Director of Creative Writing at Purdue University. Her recent writing appears in Poetry Northwest, Puerto del Sol, The Seventh Wave, The Night Heron Barks, Sprung Formal, and other journals. She serves on the Oregon Poetry Association's Board of Directors. Lauren is the Student Contest Chair of Cascadia, an online anthology and contest for Oregon's young poets. She is the recipient of a 2021-2022 Cannon Beach Arts Artist Grant. Lauren teaches at Warrenton High School.
Submissions for the next Neahkahnie Mountain Poetry Prize will be accepted in January 2024.