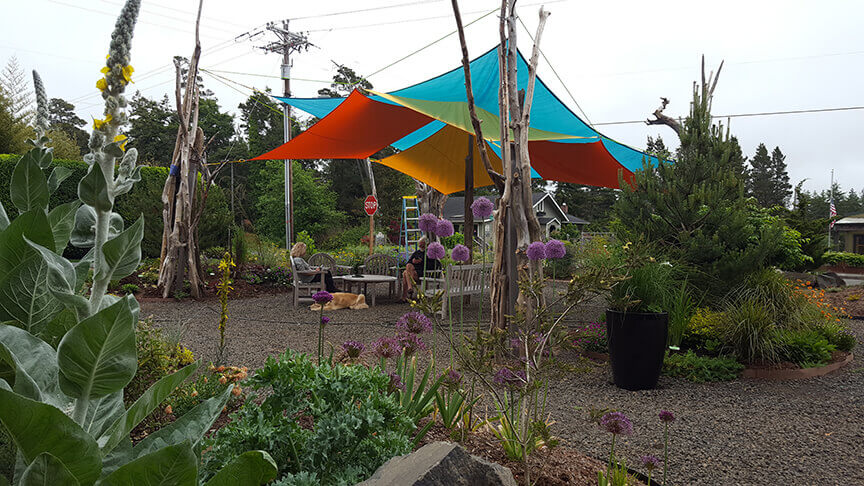 Anyone who's ever tried to turn a bunch of pretty plants into a garden knows two things: gardening is an art, and the possibility for failure is enormous. Just look at what goes into a creating a garden: color, shape, rhythm, architecture, space, soil, weather, insects, disease. No other art form has to contend with losing its very being to drainage, pH, pests, winds and weeds. Does clay die? No! But boy oh boy, plants sure do.
The Hoffman Wonder Garden is the ever-changing result of our evolving know-how as gardeners. Built in 2014 on the grounds of the former Hoffman family home, the garden is evolving into a botanic playground intended to excite and delight. We also get to play with plants from all over the world, looking for genera that will thrive in our coastal climate. All plants are labeled with both their Latin and common names.
You're likely to see folks sketching or painting in the garden (chances are they're attending a workshop at the Hoffman), and you can pretty much count on seeing any number of volunteers planting, weeding, watering and guiding visitors through the garden's wonders.
Towards the back of the garden, surrounded by plants, you'll find three extraordinary clay towers created as a memorial to Kathleen Ryan, a founding board member of the Hoffman Center and artist extraordinaire. The towers are based on a design Kathleen had started before she passed away in 2016, then finished by her many friends at the Hoffman's Clay Studio.
Our volunteers are a mighty force.
Find out how you can help. PLEASE SEND ALL INQUIRIES here and tell us about yourself!