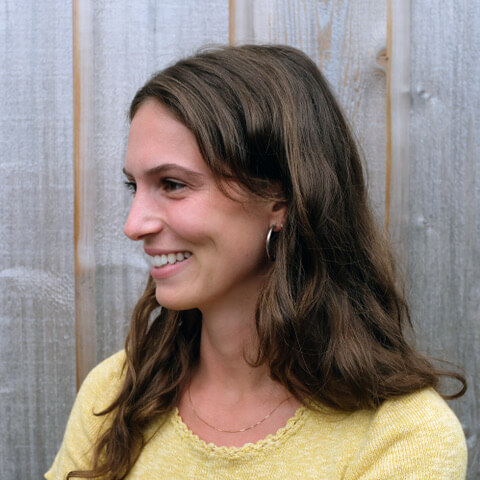 India Downes-Le Guin (she/her) joined Hoffman in late 2022. After
receiving her degree in Creative Writing at Pitzer College, India
returned to her hometown in Portland, Oregon to work for the
publishing company Tin House, where she spent 6 years developing her
dedication to West Coast arts as the Assistant Director of Workshops.
India located to the coast full-time in 2020, and enjoyed
participating in a number of programs at Hoffman, where she witnessed
first-hand the magical place and incredible people who run it. When
the opportunity arose to serve, it was an obvious choice. It is with
great excitement and gratitude for our community of residents and
visitors that India joins the team.
Fun fact: In her free time India practices becoming mediocre at many
hobbies, most recently of which include: knitting, running, printing,
and natural dyeing.

The all-volunteer Board of Directors plays a critical role in the day-to-day operation of the Hoffman Center—helping ensure financial stability, good governance, and making certain our volunteers have the tools and processes they need to provide the wide variety of programming we offer. Click on their name to see their entire bio.
Learn about the other volunteers—our Program Leads—who make the Hoffman Center hum.
Volunteers are a crucial part of everything we do. In fact, they keep the Center running. Their dedication and contribution of time enable us to offer our diverse selection of programming. Learn more about a few of our amazing volunteers below—our Program Leads. You can get involved by joining our team of volunteers. Sign up to volunteer by filling out our
online application
. We'll get back to you promptly.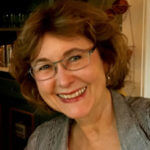 Sharon Gibson
CLAY PROGRAM CO-LEAD
Sharon Gibson is co-lead of the Clay Program where she has been working with clay and volunteering at the studio since 2013. Sharon manages some of the day-to-day operations of the program and represents the program on the Hoffman Center Board. She enjoys the opportunity to grow a thriving clay community while literally getting her hands dirty.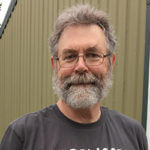 Steven Gibson
CLAY PROGRAM CO-LEAD
Steven Gibson took his first class at the Hoffman Center clay studio in 2013. Since that life-changing moment of touching clay, he has spent many hours creating functional ceramics at the wheel, managing the kiln, and volunteering in many capacities at the Hoffman Center and the clay studio, where he co-leads the Clay Program.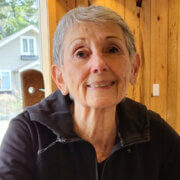 Marcia Silver
GALLERY HOST COORDINATOR
Marcia Silver began volunteering in 2014 with the Writers' Series, coordinating weekly sessions in the Writing Lounge. She has begun to write poetry supported by a series of classes offered by the Hoffman. Her interest in the visual arts has been stimulated by her work for the Gallery recruiting and training volunteer hosts. She values the Hoffman Center for the creative opportunities it provides to our rural community.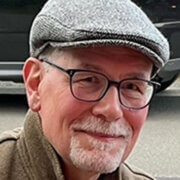 Pete McDonnell
GALLERY COORDINATOR
Pete McDonnell is a native of southeastern Washington State‭, ‬a 40-year resident of Seattle‭, ‬and a full-time Manzanita local since 2020‭. ‬He‭ ‬retired after 25‭ ‬years in clinical trials data management at Fred Hutchinson Cancer Research Center and Seattle Children's Research Institute‭. ‬Pete has always been a singer‭, ‬and has performed in a wide variety of musical projects since grade school‭.‬‭ (‬He sings now exclusively for his own entertainment‭.) ‬Pete has also always been a crafter‭, ‬and is especially drawn to fiber arts‭. ‬Since 1995‭ ‬his main focus has been kumihimo‭, ‬traditional Japanese braid making‭. ‬Pete is honored and extremely happy to be involved at the Hoffman Center‭.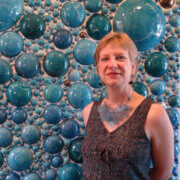 Bonnie Laing-Malcolmson
VISUAL ARTS CO-LEAD
Bonnie Laing Malcolmson graduated with a BFA in painting, working as a studio artist while supporting herself fry cooking, waitressing, bartending, house painting and teaching art. She began her arts administration career in 1981 at Pacific Northwest College of Art, her alma mater, where she was director of admissions and academic affairs. Later, she earned an MFA in painting at MSU Bozeman and taught as an adjunct professor. She was a gallery and museum director, and president of Oregon College of Art and Craft.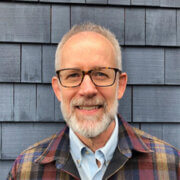 Brian Postle
VISUAL ARTS CO-LEAD
Brian Postle has been visiting Manzanita for 25 years. He and his husband, Pete McDonnell, are grateful to call this remarkable place home. Remarkable, of course, for the natural beauty, but more significantly for the people who live here and devote their time and energy to civic activities. Brian feels incredibly fortunate to be a part of the Hoffman world, surrounded by so many unique, creative, and intelligent people. After a fifty-year career, starting on a dairy farm in rural upstate New York and ending as a project manager for global vaccine trials, Brian is headed, in awe, full steam ahead into retirement.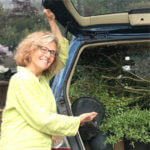 Ketzel Levine
WONDER GARDEN LEAD
Ketzel Levine has a passion for plants and horticulture and became NPR's gardening expert, the "Doyenne of Dirt," talking plants on Saturday mornings. She set down roots locally leading enthusiastic volunteers tending the Wonder Garden with the assistance of her Golden, Milo, who doesn't do laundry but does entertains guests at their airbnb Sea, Sit, Stay! atop Neahkahnie.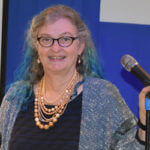 Vera Wildauer
WRITING PROGRAM LEAD
Vera Wildauer has been involved with the Hoffman Center since 2008 and helps bring authors, publishers, and writing instructors to our area. As co-founder of the Manzanita Writers' Series and North Coast Squid literary journal, she is delighted to bring opportunities for learning and community to local and visiting writers. Prior to moving to Manzanita full-time, she had 20+ years' experience as a marketing professional and non-profit board member.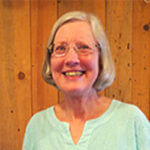 Phyllis Mannan
POETRY PROGRAMS CO-LEAD
Phyllis Mannan is about to publish her first poetry chapbook. Her poems and nonfiction pieces have appeared in The Oregonian, Rain Magazine, StringTown, Willow Springs, and other publications. Her years of connection to the Portland poetry community and her love of poetry are put to work producing the periodic poetry events and managing the Poetry Kiosk in the Wonder Garden.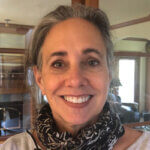 Emily Ransdell
WORD & IMAGE AND POETRY PROGRAMS CO-LEAD
Emily Ransdell divides her time between Manzanita and Camas, WA. Her poems have appeared in Timberline Review, The Cortland Review, Rattle, and elsewhere. She was featured on Ted Kooser's American Life in Poetry and has been nominated for a Pushcart Prize. After years of marketing work for HP, she recently completed her MFA in Poetry and teaches poetry classes at the Hoffman, along with volunteering.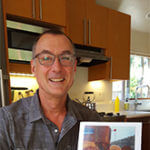 Andy Barker
NORTH COAST SQUID LEAD AND WORD & IMAGE CO-LEAD
Andy Barker taught creative writing as a high school English teacher before retiring two years ago. He splits his time between Manzanita and Portland. His years as an advisor to an award-winning student journal are being put to work as editor of the North Coast Squid Literary Journal. His stories have appeared in journals including the North Coast Squid and Rain Magazine.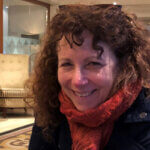 Lynn Steinberg
COMMUNITY WRITES LEAD
Lynn Steinberg has worked as a high-school teacher, journalist and communications executive over the course of a long and varied career. After years of city life up and down the West Coast, she recently retired from The Boeing Company and moved to Manzanita full-time with her husband Ellis.