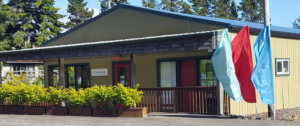 Dear Community,
Our office contractor Jill Thurston is leaving us at the end of July.  Jill has truly been a delight to work with and we will really miss her.
We need to find a replacement! Enclosed is the HCA contractor description. Jill currently works 4-6 hours weekly. On occasion she works more depending on what is happening at the Hoffman.
This is a fun gig for someone who enjoys working with a variety of people, would be capable of close coordination with our offsite administrative contractor, and would like to support the efforts of a not-for-profit arts organization.
Please note- Jill works about 4-6 hours weekly for the North County Food Bank and 1-2 hours weekly for the North County Library Friends. Thus, a person interested in this contractor role could pick up all three organizations for a total of about 9-14 hours weekly. In the case of the Food Bank and Library Friends, this person also makes Quickbooks entries. We are coordinating together to find a replacement for Jill.
Will you please think about who might be capable and interested?  Maybe you or someone you know? We are eager to identify that person and give them a chance to cross train with Jill. Interested parties who meet the requirements are invited to send their resume and interest to [email protected]
Thank you for helping,
Mary Roberts
Board Chair
Hoffman Center for the Arts