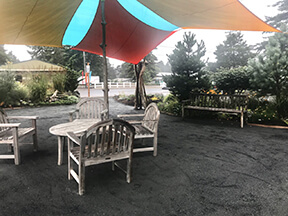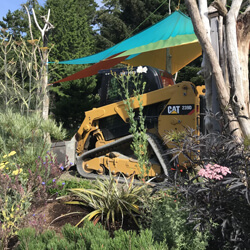 Yes, it was a bit scary to host heavy equipment in the Wonder Garden, believe you me. But the time had come to upgrade the existing hardscape in order to set the garden off from its coarse gravel surroundings.
All fears were unjustified and not a leaf broken during the dumping, grading and compacting of many, many tons of crushed rock thanks to the expertise of John Longfellow, his crew, plus the undeterrable Lloyd Lindley. The work began at 9am; the facelift was complete by 4pm. True, we did do some damage to the WG budget but, hey, what's a budget for? Response has been overwhelmingly positive. Hope you agree.
In other easy-on-the-nervous-system news: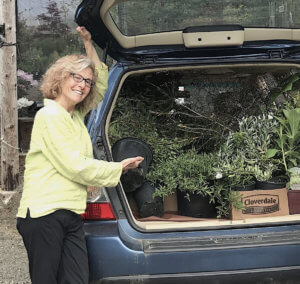 Mark your calendars for Wednesday, August 21st at 5pm for the next speaker in our on-going Horticultural Arts series, our own WG plant curator Ketzel Levine. This is your chance to get on a first-name basis with the international cast of characters growing in the garden and to hang out with a doyenne of dirt. The event begins with a talk inside the HCA and ends in the WG with a nosh and a tour. Pre-registration recommended!
Click here for more information.