Thank you, Cloud & Leaf Bookstore, Ocean Inn,
and Meadow & Corey Davis Realtors!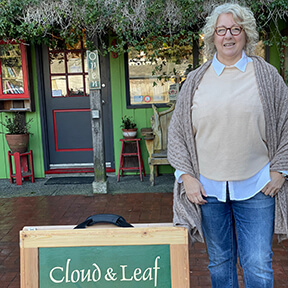 Cloud & Leaf Bookstore owner Holly Lorincz continues as a business sponsor of the Hoffman established by earlier owners. Holly moved here in1996 and as a prolific published author (she just finished her 14th book, many as a ghost writer) she is thankful for the Hoffman's support of her and other local writers. She feels especially lucky to have enjoyed many amazing author talks through the years and looks forward to a community where events like this highlight interesting topics and authors.
---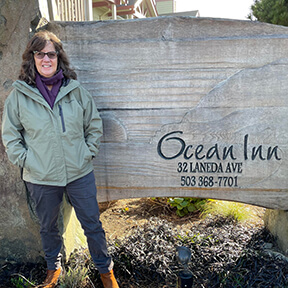 For Ocean Inn owner Janice Zagata, the Hoffman Center creates an interesting town by offering delightful opportunities that anyone can enjoy. She particularly values the Hoffman Wonder Garden's year-round beauty, varied monthly gallery exhibits, and range of writing, clay, and arts classes. Janice appreciates how unique our art center is and has, along with her husband, been a supporter for many years. Special note: Janice's masterful pastel landscapes grace the Ocean Inn lobby.
---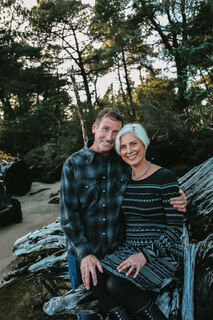 Realtors Meadow and Corey Davis have been Hoffman donors since 2018.
According to Meadow,"We choose to support the Hoffman Center both as residents of the community and business owners in Manzanita because we hugely value the role the arts have played in our lives. I was lucky enough to grow up here, on the Oregon Coast, surrounded by artists in my parents' circle. My artist stepmother, Barbara Temple Ayres, encouraged me to try all kinds of artistic endeavors as a child: throwing little pots, painting tiles, and hand forming all kinds of miniature items for my doll house."
Corey discovered his passion for the arts in college where he took classes in metal arts making jewelry, vessels, and wearable art—participating in group gallery shows in Portland. "I, too, incorporated art into my college curriculum, dabbling in printmaking, jewelry making, and enameling at U of O. As a young couple in Cannon Beach, we had a joint show of metal wall art at the Cannon Beach Arts Association, and I served on their board. As parents, we fostered our daughter's natural artistic talents at home. I was also program trained and then taught in the Arts in Schools program at her elementary school in Soquel, CA." Corey rolled his artistic skills into his career, segueing from hand shaping of surf boards to CAD design for surfboards, kite boards, kites, e-foils and e-foil boards, and soft goods over 20+ years in the surf industry. "As Realtors, we may not spend much time crafting with our hands, but we hope to bring our creative drive to marketing of homes and property. And, as community members, we support the Hoffman's mission to make art available to all, here in the Manzanita area."
The Hoffman Center is grateful to all our donors including these wonderful business sponsors!
To learn more about becoming a business sponsor of the Hoffman, contact [email protected].