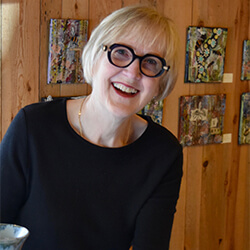 Contact Info
Mary Roberts, Past President
Neahkahnie
Mary Roberts (she/her/hers) served as HCA Board President for four years, Vice-President for one year, and three years as Gallery Manager.  Her leadership contributions include helping to improve the Hoffman facility and gallery by adding new restrooms and kitchenette, improving classroom lighting, and helping behind the scenes with the Wonder Garden tool shed.  Mary's leadership helped establish an aspirational vision for what the HCA can become in service to our larger community of residents and visitors.
The HCA Board is pleased to announce Mary will continue on the HCA board for one more year to help ensure a smooth and seamless transition.
Fun Fact: Mary learned to sew through 4-h and competed at county and state fairs. As a young adult, she initially made her living by working at a fabric store before being hired to sew for a clothing designer and followed by an interior designer. She now applies these similar skills of construction and finish to her ceramics.