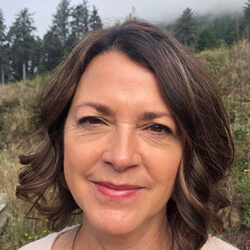 Contact Info
Terri Desaro, Secretary
Neahkahnie
Terri Desaro (she/her/hers) grew up in Boise, Idaho and started her professional career in banking. She spent 13 years in the financial advisory industry with two regional stock brokerage firms. With experience in both operations management and securities sales, Terri enjoyed the dynamic world of the financial markets.
After leaving the corporate career path and moving to Manzanita in 2006, Terri put her small business skills to work. She was co-founder of Vino Manzanita, the first wine bar on the North Coast. After the sale of that successful business, Finnesterre was launched in 2011. That business has grown to encompass two buildings, two additional partners and two employees.
Terri became involved with the Hoffman Center in late 2009, assisting with a capital campaign. Also, she and her husband, Craig Nern, launched the Hoffman Center's Manzanita Film Series.
Fun Fact:  Terri once owned a racehorse!  She worked as a teen at her family's drive-in, sparking her interest in business; the restaurant is still owned by the family after 42 years.  Currently she enjoys cooking, cuddling with her dog and spending time with family and friends.