While we can't meet in person, the Hoffman Center for the Arts is excited to offer two ways for you to share your work.
Creating in Place: Connecting in a Time of Uncertainty
We're inviting local artists, writers, and film makers, forced to stay home or apart during the Covid-19 threat, to create works reflecting the impact the situation is having on themselves and the community. How are family, friends, neighbors and colleagues dealing with the isolation and worry, while still trying to stay connected?
Visual artists are asked to sketch, draw, paint in any medium or multi-media, or collage whatever they're feeling, and submit a digital photograph of the finished work. Three-dimensional works created for the occasion are also welcome, as is photography. Writers are invited to submit poetry, essays, and stories, and film makers can send us links to their works on video platforms like Vimeo or YouTube.
Word & Image: A Dialogue Between Writers and Artists
The 5th Word & Image project will be accepting entries from April 1 through April 30, 2020. This Hoffman Center program pairs artists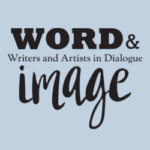 and writers to create original work, each in response to the other's.
The twelve selected artists and writers will be randomly paired.  Each writer and artist will be given copies of the other's submitted work.
Over the summer, each writer and each artist will create new work in response to one of the three pieces submitted by their partner. A writer might create a new poem in response to a watercolor, for example. A photographer might make a new image in response to a prose piece.
The end result will be a gallery show in October, readings by the writers, and a book that captures the entire collection.