Do you love Art?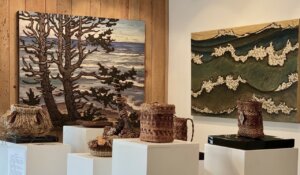 If you, or someone you know really loves art and would enjoy learning more about art, artists, and art lovers within our community, please let us know! We'd love to explore our need for a new lead in the Gallery.  The weekly workload varies year round and averages 10-15 hours. A portion of the work can be done from home or remotely. But this role pretty much requires someone who is available and is well suited to someone who is here full time.
This person oversees the Hoffman gallery that engages the community, celebrates art and artists, and contributes artistically and  financially to the Art Center. It is a fun and fulfilling role!
Background and Skills:
• arts-related background such as an arts educator, collector, artist, or from an art or design-related business
• organized, able to plan well ahead and anticipate requirements
• patient with people, volunteers, customers, and artists
• proficient with standard office software including Word and spreadsheets and able to learn sales software. Comfortable with technology- don't need to love it
Please let us know about you by sending your resume and interest to Bonnie Laing Malcolmson at [email protected] The Hoffman Center board nominating committee will make the final selection.
We look forward to hearing from you!