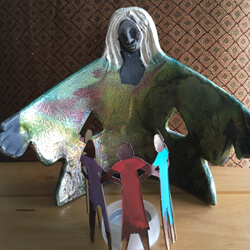 Art of Dying
Creating Memorials
Wednesday, April 24 | 3:00-5:00pm
Admission: $5
Hoffman Center for the Arts | 594 Laneda Avenue | Manzanita
Discussion on Creating Your Own
Memorial Service at the Art of Aging/of Dying series
Join us for a discussion, and get started on, Creating Your Own Memorial Service.
What would you like to have happen for your family and friends after you die?
Come join us to begin to think this through. We'll give you a little writing to do, followed by sharing of ideas and considerations (but only if you want to). You'll also be given a sheet to take home to work on.
Here are just a few of the things you can consider: What format and size? Will specific people be invited to speak, or would you like it to be an open sharing? Where should it be held? (Church or secular? A large venue or small? Outside or inside?) Who would you like as an officiant/celebrant? What music would you like played or sung? (By a pro-fessional or by the group?) Time of day? Food (potluck or catered?)
There are many things to consider. It really makes things easier for those left behind if you have thought some of this through, written your wishes down and placed them with your will and other important papers. It is especially meaningful to have a talk about it now with those nearest you.
Pulling some of this together in community helps the process move forward. You'll hear things you might not have thought of and find it easier to develop your own plan.
(P.S. Having this done doesn't mean you'll die any sooner.)
If you'd like to be on an email list for the Art of Aging/of Dying announcements, email Tela Skinner at [email protected]
The Art of Aging/of Dying Series is a program of the Hoffman Center of the Arts and will be held at the Hoffman Center (across from Manzanita Library at 594 Laneda Ave). For further information contact Tela Skinner at [email protected]
April 24, 2019




3:00 pm - 5:00 pm