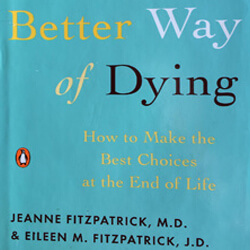 Art of Dying
A Better Way of Dying
Paula Sansum and Tela Skinner
Wednesday, May  22 | 3:00-5:00pm
Admission: $5
Discussion on The Compassion Protocol:
A Better Way to Die at the Art of Aging/of Dying 
Join us for a Discussion on The Compassion Protocol: A Better Way to Die at the Art of Aging/of Dying series at the Hoffman Center for the Arts in Manzanita on Wednesday, May 22, 2019, from 3 to 5 pm.  Fee is $5.
Planning for end of life care is as crucial for healthy young people as it is for those who know they are at the end of life.
Tela Skinner and Paula Sansum will present information about The Compassion Protocol and the process of creating a Contract for Compassionate Care.  The Compassion Protocol comes from the book A Better Way of Dying: How to Make the Best Choices at the End of Life, by Jeanne Fitzpatrick, M.D. and Eileen M. Fitzpatrick, J.D.
The information from the Compassion Protocol will provide you with what is needed to approach your Contract for Compassionate Care, which allows you to choose what medical treatment you want or don't want at the end of your life.  You will learn about the contract by going through the decision-making process called The Compassion Protocol.
The Contract for Compassionate Care presents a new option that is omitted from most current Advance Directives.  It gives one the option to choose a natural death.
Choosing to die a natural death requires some serious decision making and rethinking of end of life options. The Compassion Protocol is the process that provides structure for your thinking as you face this difficult decision.
The Compassion Protocol increases choice and control at the end of life.  It is a valued tool for both competent individuals and those who will experience dementia.
If you'd like to be on an email list for the Art of Aging/of Dying announcements, email Tela Skinner at [email protected]
The Art of Aging/of Dying Series is a program of the Hoffman Center of the Arts and will be held at the Hoffman Center (across from Manzanita Library at 594 Laneda Ave). For more information contact Tela Skinner at [email protected]
May 22, 2019




3:00 pm - 5:00 pm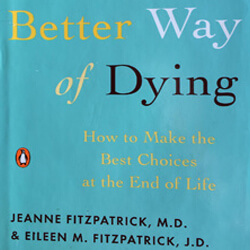 Art of Dying ~ A Better Way of Dying