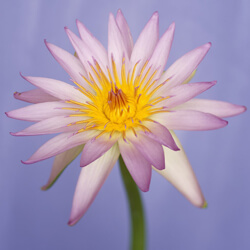 van Dongen Art Raffle
Win this stunning Ron van Dongen photograph ($2000 Retail Value). Very generously donated by the artist, 100% of ticket sales benefit Hoffman Center for the Arts new scholarship program. This new program will pay partial tuition to participate in any of the Hoffman offerings. More details coming soon!
"This floral image was created in 2005. I had just started to use color film, after photographing flowers for 10 years exclusively in black and white. Now, I was interested in creating still lifes with as few different colors as possible.
"When I brought this flower into the studio, I painted the backdrop exactly the same color as the flower petals, or so I thought. The (Fuji) film clearly recorded it differently. Although this photograph turned out to be technically not what I wanted, it is still one of my favorites still lifes."
–Ron van Dongen–
See the photo in person during Ron's gallery show through September – info HERE

Tickets on sale until 12 midnight on Sunday, September 27th
The winning ticket will be pulled and the winner notified on October 1
September 3, 2020 - September 27, 2020




12:00 am - 11:55 pm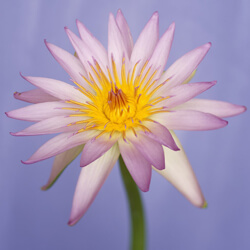 Auction item:  Stunning Ron van Dongen photograph