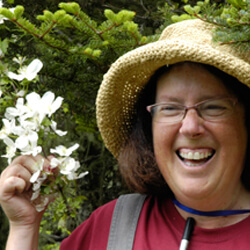 Art of Horticulture
Yes You CAN Grow Clematis on the Coast!
A Cure for the Clematis-Challenged
Linda Beutler, guest speaker
Saturday, March 23 | 10:00am to 12:00pm
Tuition $15
Hoffman Center for the Arts | 594 Laneda Avenue | Manzanita, Oregon
When clematis buds open, all heads turn. Their unearthly flowers make the weak-kneed weep. They burst into garden parties wearing lemon yellow, striped magenta, and snowstorms of the purest white, spinning like pinwheels and floating on sky blue wings.
Well, at least that's the way they're supposed to look, judging by their photographs. So how come they don't party that way in your North Coast garden?
"Don't worry! I've killed more clematis than you'll ever try to grow," says clematis expert Linda Beutler, a fifth generation Oregonian and lifetime gardener who knows how to make these vines climb. "As it happens, my parents moved to Rockaway Beach in the late 70's," says Ms. Beutler, who gardens in Portland, "so yes, I know a thing or two about growing clematis in the coastal climate."
A thing or two, plus her characteristic warmth and humor, have made Ms. Beutler one of the most sought-after clematis experts and speakers in the country.  Her credentials spread like tendrils through the world of horticulture.  Currently, she is the curator of the Rogerson Clematis Garden in Lake Oswego, North America's
foremost collection of the genus, where's she's on a first-name
basis with nearly two thousand clematis plants.
She was also the first American president of the International Clematis Society, and  for two decades, a celebrated Portland florist. Her plant-themed articles have appeared in Fine Gardening and Pacific Horticulture; her irrepressible passion for clematis led to her most recent gardening book, The Plant Lover's Guide to Clematis (Timber Press, 2016), which will be on sale during her presentation.
"Wherever they are found," she writes, "their blooms never fail to induce rapture and awe…but horticultural horrors can ensue when beginners (or experts) overreach and force plants where they do not belong."
Join us for Linda Beutler's lively show-and-tell, a sure cure for the overreaching, clematis-challenged gardener!
For more information contact KetzelLevine, [email protected]
March 23, 2019




10:00 am - 12:00 pm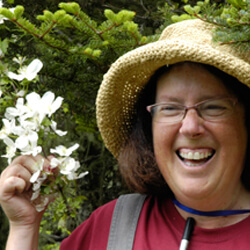 Horticultural Arts lecture and workshop