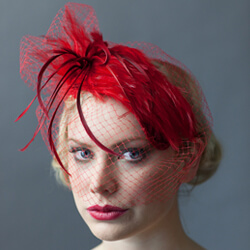 Visual Arts Workshop
One-Day Hat Workshop
with Dayna Pinkham
Sunday, March 24 | 11:00am to 4:00pm
Tuition: $125 | Materials Fee: $25
Student Minimum-3 | Maximum-10
Hoffman Center for the Arts | 594 Laneda Avenue | Manzanita
Hoffman Center Offers Spring Fascinator Hat Making Workshop
The Hoffman Center for the Arts in Manzanita will offer Spring Fascinator: A Hat Making Workshop Sunday, March 24, 2019, from 11:00am to 4:00pm.  Led by Portland milliner Dayna Pinkham. The tuition of $125.00 and a materials fee of $25.00.
Using traditional millinery techniques students will create hat bases out of straw, and decorate with fabric flowers, ribbons, feathers, etc. All materials will be supplied but participants are encouraged to bring personal trinkets and treasures to further adorn and personalize their hats.
The fascinating history of fascinators goes back to the 17th century when a fascinator was an oblong lacy head covering 'fastened' to a woman's head. This century's fascinator is anything but a scarf. Recall the eye-catching ostentatious sculptures worn by guests at last spring's Prince Harry and Meghan Markle's wedding.  Fascinators are stylish, roguish, sassy, personal, or demure.
Dayna Pinkham began her career in Seattle where she apprenticed to the late John Eaton, venerable milliner and fashion designer.  Pinkham Millinery is a unique fixture in downtown Portland since 1996. The space functions as both a boutique and showroom and is the primary workshop where Pinkham designs and constructs ready to wear and one-on-a-kind hats for men and women using traditional millinery techniques and materials.
Today Pinkham Millinery is renowned as one of the West Coast's top milliners, Dayna Pinkham's growing national and international clientele includes rock stars, actors, and a U.S. Ambassador.
More information about Dayna Pinkham and Pinkham Millinery
March 24, 2019




11:00 am - 4:00 pm