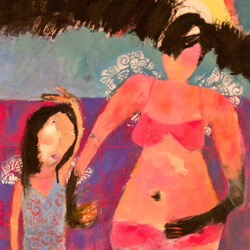 Visual Arts Workshop
Paint with Me
with Samyak Yamauchi
Saturday & Sunday August 24-25 | 10:00am to 5:00pm
Tuition $195 includes all materials
Hoffman Center for the Arts | 594 Laneda Avenue | Manzanita

Intuitive acrylic and mixed media painting workshop
Artisit's Statement
Sam's process completely eliminates all of the anxiety about lack of skill and experience!  Once you realize that you are not trying to paint anything at all, you become open to finding what wants to be painted.  Each canvas has a story to be told and you are just bringing it forward.  And, the story can keep changing; it is amazing to watch Sam continually change her own painting because "something else is coming forward. This is a wonderfully meditative process.  Kelly
Samyak Yamauchi is represented by RiverSea Gallery in Astoria
Student works are featured below
Paint with Me is an intuitive acrylic and mixed media painting workshop that allows students at any painting level to let go of preconceived ideas of how and what to paint, access inner guidance, play with paint, and end up with a representational painting which is narrative in nature.
Harley's workshop piece
Each day will begin with a meditation to center, set intention and open up intuition and inner guidance. The rest of the day will consist of teacher demonstrations of the painting process, and students practicing on their own paintings. This is not a technique or skills-based painting workshop. Participants will learn this intuitive painting process and complete a painting (or more than one) by the end of the workshop.
Samyak "Sam" Yamauchi is a retired elementary school teacher and Portland painter. Mostly self-taught, she came to painting in 2013 after many years of working with glass mosaics. She is inspired by color and the deeply soulful discovery process of being in the moment with the materials and the imagery as it arises.
Susan's workshop piece
Her approach is part contemplation and intention, part intuition and imagination, and a whole lot of playing around until she knows it is "right." Sam paints off-beat, colorful paintings that tells stories of connection—with ourselves and with others.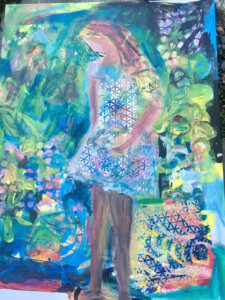 She shows her works throughout the Portland area and is represented by RiverSea Gallery in Astoria. She was a featured artist on Oregon Art Beat in 2015. She has been a board member of Portland Open Studios and a participating artist with the event three times as a mosaic artist and three times as a painter. She has experience leading intuitive painting workshops and facilitating women's circles that focus on creativity and spirituality.
Jan's workshop piece
In June of 2018, Sam and her husband bought a 'mini-house' overlooking the Nehalem River in order to spend more time on the beautiful coast and be near their daughter and her family. She paints nearly every day whether in her studio in Portland or at her kitchen table in Nehalem.
Follow this link for information about the artists
Oregon Art Beat
August 24, 2019




10:00 am - 5:00 pm

August 25, 2019




10:00 am - 5:00 pm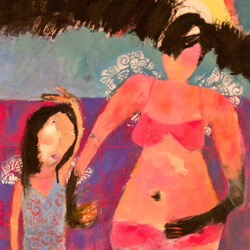 Intuitive acrylic and mixed media painting