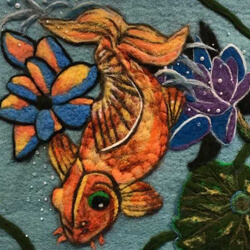 Visual Arts Workshop
Painting With Wool Workshop
with Jeanine Rumble and Glenna Gray
Saturday, March 2  | 10:00am to 4:00pm
Tuition $40  | Materials Fee $25
Hoffman Center for the Arts | 594 Laneda Avenue | Manzanita
Hoffman Center Offers Painting with Wool Workshop
A one-day workshop led by local fiber artists, Glenna Gray and Jeanine Rumble. Students will explore how to create amazing 2-dimensional, painterly images by needling wool into fabric. Landscapes, portraits, abstracts, or animals—the sky is the limit!
This workshop will provide all the materials to allow beginners and experienced artists an introduction to this emerging medium. Students will be shown methods of making colorful images into wool felt, as well as fine linen. Embroidery hoops, needles, fabric and a wide assortment of wool colors will be available. Methods demonstrated include transferring drawings onto fabric, color blending, and layering.
Artists Gray and Rumble believe "expanding wool painting into multi-media, 3-D and wearable art offers limitless possibilities."
Participants are free to bring their own drawings, photos or ideas suitable for a painting from 6 to 10 inches; or try some of the images provided in the workshop. Wool and other materials can be taken home after to the workshop to complete paintings.
Come play with Jeanine and Glenna for the day!
Glenna Gray and Jeanine Rumble are both residents who enjoy an enthusiastic approach to artistic experimentation. They are active in several types of media such as painting, sculpture, wearable art and especially felting. They share the joy and challenges of taking artistic risks and having outrageous amounts of fun. Both were recently featured in the Hoffman Center's Art Gallery's November Quilt & Fiber Show and are currently exhibiting in the January Purple Haze Show.
March 2, 2019




10:00 am - 4:00 pm