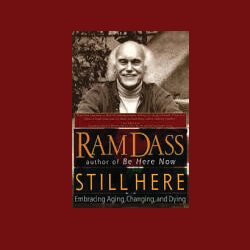 Art of Dying
Still Here – Ram Dass Quotes
Wednesday, November 28 | 3:00-5:00pm
Admission $5
Hoffman Center for the Arts | 594 Laneda Avenue | Manzanita 

Kathleen Moore and Tela Skinner will lead a conversation sharing
the humor & wisdom of Ram Dass 

for the Art of Aging/of Dying series 
Attendees are encouraged to bring Ram Dass quotes for discussion.
Ram Dass is the founder of the Love Serve Remember Foundation and cofounder of the Seva Foundation, the Dying Project, and the Prison Ashram Project. His landmark book Be Here Now sold two-million-copies. Ram Dass is also the author of How Can I Help, Compassion in Action and Still Here, which he finished writing after a debilitating stroke.
The name Ram Dass means "servant of God."  In his books he humbly offers deep truths about being both human and spiritual beings.
 "What we require, in order to re-imagine the process of getting older as a healing path, is simply the knowledge that we are more than our bodies and minds. Once we've begun to experience Soul consciousness in daily life, we find that it offers great relief from the pain, fear, loss, anger, and other difficult mind-states that arise with aging." Ram Dass
In the 1960s Ram Dass left his teaching position at Harvard to blaze a new spiritual trail shaped by the awakening consciousness of a generation seeking fulfillment and meaning in their lives. He helped show us how to find peace within ourselves. Ram Dass's words continue to comfort us as we age. He invites people in their later years to explore the joys, pains and opportunities of aging and to approach the mystery of dying with curiosity and love.
If you'd like to be on an email list for the Art of Aging/of Dying announcements, email Tela Skinner at [email protected].
The Art of Aging/of Dying Series is a program of the Hoffman Center of the Arts and will be held at the Hoffman Center (across from Manzanita Library at 594 Laneda Ave). For more information contact Tela Skinner at [email protected].
November 28, 2018




3:00 pm - 5:00 pm