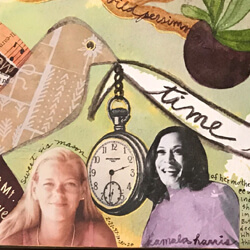 Visual Arts Workshop
Sketchbook Journaling – Holiday Celebrations
with Melissa Young
December 10 | 12:00-3:00pm
Tuition $35
Sign up now and join our holiday Zoom party
Zoom link will be emailed to you day before workshop
Celebrations in Sketchbook Journaling
Now's the season to lift our spirits & brushes in celebration of the close of a memorable year, the traditions that make this season special, & perhaps a nod to your unique year.
We invite you to zoom with Melissa Grace Young in a 3-hour sketchbook journaling workshop, to pause a bit, and engage in an activity you know will be fun and fulfilling for your soul.
Collect images and words of seasonal comfort & family, salvage bits of wrapping paper, and prepare to assemble a page complete with a bird holding up your "celebrate" banner. We'll include a festive snow globe with your choice of what goes inside!
Experiment with masking using a white crayon and painters tape. Introduction to Derwent Intense pencil for outline and lettering.

Supplies:
Unlined journal, preferably watercolor paper
Watercolors
Tim Holtz Distress Spray Stains (optional)
White crayon or masking fluid, or white candlestick
Derwent Inktense pencil in 'Bark' color (on Blick.com for $2.09)
Pencil & Eraser
Fine-lined waterproof pen/marker
Gold or other metallic ink or pen (optional)
Painters tape or masking tape
Scissors
Matte medium or other glue
Brushes
Water
Paper towel
December 10, 2020




12:00 pm - 3:00 pm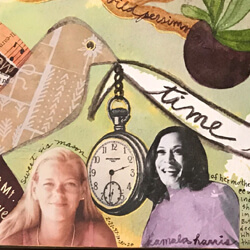 Sketchbook Journaling – Holiday Celebrations