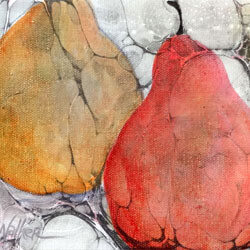 Visual Arts Workshop
Suminagashi Marbling
with Liz Walker
Saturday and Sunday, August 3-4 | 9:00am to 4:00pm
Tuition  $200 | materials fee $40
Hoffman Center for the Arts | 594 Laneda Avenue | Manzanita
Suminagashi Paper Marbling:
From Patterned Paper to Finished Painting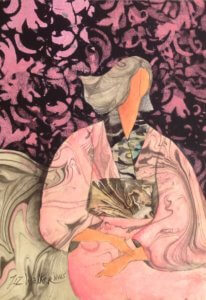 Explore this fascinating Japanese paper marbling technique using water-based boku inks floated on plain tap water in a shallow tray. The name suminagashi literally means spilled ink. Create intricate, patterned rice papers using this ancient method and then learn how to use these papers to build gorgeous layered collages and finished paintings using acrylic paints. Liz will provide students with examples, suggestions, and plenty of feedback in this one-of-a-kind workshop. No prior marbling experience is needed, but participants should have basic acrylic painting skills.
Day-1: Learn how to create beautiful marbled papers using sumi inks dropped from small paintbrushes into a tray of water and printed on rice paper. Patterns and special effects are achieved using a bamboo stylus and eyedroppers. This process is meditative, mesmerizing, and creates subtle, found-in-nature patterns and rings that are one-of-a-kind. Participants will create dozens of marbled rice papers, and marble on other heavier papers, sheet music, and other ephemera.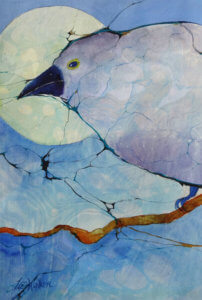 Date 2: Liz's slideshow will illustrate how some of her paintings started, progressed, and were brought to a satisfying conclusion. She will demonstrate her step-by-step process of turning simple marbled papers into paintings. The class will set work on their own pieces. Rice papers will be glued on substrates, and acrylic paints and collage will be used to complement and enhance the suminagashi marbling.
Liz Walker creates award-winning marbled paintings in her studio in Portland, Oregon. She has been teaching marbling (both acrylic and suminagashi) for more than a decade. She received her BA in Art from Trinity University in San Antonio, TX. Her work has been widely exhibited in regional and national shows. She is a Signature member of the National Watercolor Society, Northwest Watercolor Society, International Society of Experimental Art, and the Western Federation of Watercolor Societies. Watercolor Artist Magazine featured an article about Liz's acrylic marbling technique in their August 2016 issue, and her paintings have been published in the North Light publications AcylicWorks4, and AcrylicWorks6.
MATERIALS LIST:
Instructor Provides:
Innovations Suminagashi Ink Set (which students get to keep)
25 sheets (12" x 18") per student of Basic sumi rice papers necessary for suminagashi (covered by the materials fee)
Marbling trays
Marbling tools (broom straws, stylus, round palette for mixing inks, dispersant for spreading inks)
Reusable stencils for creating subject matter on the marbled papers
Students Provide:
8 oz white glue (such as Elmer's)
8 oz Liquitex or Golden matte medium (NOT gel medium—needs to be fluid)
Acrylic paints (include white gesso and black gesso); paints can be Golden fluid, or heavy body tube paints; bring colors that you enjoy working with.
Small palette or small flat plate
Acrylic paintbrushes, or old watercolor brushes: 1" flat and #12 round.
Small pair of scissors for trimming papers
Full roll of absorbent paper towels such as Viva or Bounty (paper towel sheets can be reused when dry)
Apron or painting smock to protect clothing (sumi inks are non-toxic but can temporarily stain fingers and clothes)
Latex gloves are optional
2 to 4 substrates (such as 140lb printmaking or watercolor paper), no smaller than 5" x 7" and no larger than 11" x 15" to support the marbled rice papers that will be used to collage onto the substrates. Note: The clean backs of old watercolor paintings (11" x 15") will work.
Caran D'Ache water soluble crayons (broken halves are ok—brown and black are preferred)
Tracing paper sheets or pad—approximately 12" x 16"
Optional:
Any other non-glossy papers that you'd like to try to marble, such as old sheet music, book pages, or light-colored rice papers. All papers should be 11" x 15" or smaller and should be able to withstand being immersed in water without falling apart.
August 3, 2019 - August 4, 2019




10:00 am - 4:00 pm