Word & Image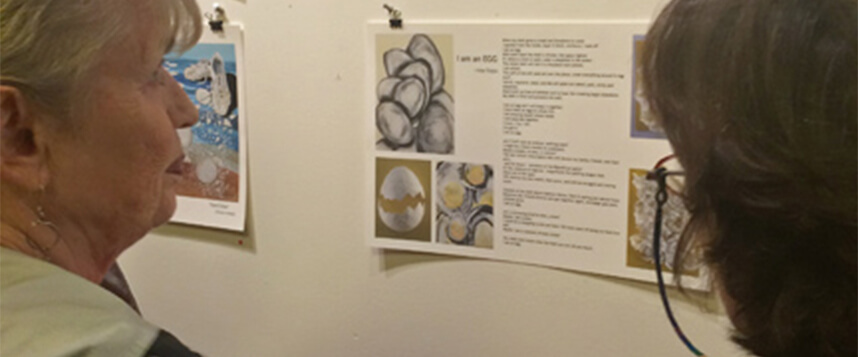 The 2018 Word & Image Project
WORD & IMAGE IS CLOSED FOR SUBMISSIONS. CHECK BACK IN SPRING 2020 FOR THE NEXT SUBMISSIONS PERIOD.
You can review the submission guidelines and instructions we have used. All submissions must be made electronically.
How It Works
Word & Image takes the Greek tradition of Ekphrasis — which is writing in response to art, and turns the tables to include art in response to writing. The combinations of word and image that result often reveal surprising new layers of meaning, and give both artists and writers the rare opportunity to see their art reflected in the work of another's.

This Year's Word & Image Project Will Be Unveiled on October 5th
The Hoffman Center will host an exhibit and reading for our popular Word & Image project on Friday, October 5, 2018. Now in its fourth year, Word & Image is a dialog between writers and artists that results in each participant creating original work in response to their partner's.
The 24 participants selected for 2018 include North Coast writers and artists from Astoria to Pacific City, as well as several from the Portland area and beyond. Their results will be shared with the public at in the annual Word & Image event, at which writers read as the accompanying art is projected for the audience.  Paired work is printed on broadsides and is exhibited in the Hoffman Gallery as well as published in a keepsake book. Both are available for sale in the gallery. The collaborations will remain on display in the gallery for the month of October.
The opening event for Word & Image 2018 will be held on Friday, October 5, 7 pm.  The public is invited to attend.
Key dates for participants:
August 8, 2018 — Final art and writing due
September 30 — Artists deliver new original work to the Hoffman Center
October 5 — Art show and reading